A Falco Pilgrimage,
Chino to Oshkosh
by George Richards
This article appeared in the October 2012 issue of the Falco Builders Letter.
The last I had seen of my Falco was it heading off to the USA. In fact it had arrived at Long Beach port and was somewhere between the port and where it should have been, Chino airport.
While the Falco was on the way up to the USA I thought I'd check on the booking for the container Sidelifter. The owner/driver had warned me that he gets busy and a booking would need to be made well in advance advising at least three weeks notice. I had told the shipping company this was a requirement and my contact there had assured me that she had everything in hand. When I checked however, nothing had been booked, and he was telling me that there was slim chance he was going to be able to achieve what I needed. I wasn't happy. I phoned the shipping company to discover that my contact had left the company and had failed to pass on any information. Things were starting to look messy. The shipper however didn't sound too concerned, and said they would sort something out. I didn't share their optimism. Of course all this can be sorted out in one way or another and is really only a money issue, but that was something I didn't have the luxury of having. I was on a fairly strict budget. As you can imagine, the whole exercise was not a cheap one. The shipping companies aren't used to dealing with the public. They deal with companies which generally don't have too much issue with writing a bigger cheque when required.
In a few days it became clear that my worst fears were coming true. The Sidelifter was not available. From this point people started to clam up. Nobody seemed to want to give too many specifics about what was going on. The day had passed that the container had landed but from there the exact location was difficult to pin down and nobody seemed to want to share.
One of the problems was that since the Sidelifter was no longer an option, the only way to lower the container to the ground was to use either a crane or a large forklift. A crane was selected (not by me) and it had to come from Long Beach to Chino with the container. The cost was going to skyrocket. At one stage it was indicated as much as NZ$8000 more with costs of container storage, cranes, trucks, etc. this was clearly out of my reach. If I paid that fee I couldn't afford to fly the plane to Oshkosh. Obviously I was upset but my concern became whether I would ever see my plane again. I could see that the money fight would lead to a standoff that would either bankrupt me or have my airplane be in some unknown yard somewhere while the fight continued. I didn't have a lot of favorable options so I elected to abandon the trip and try to get my plane home while I still had a chance.
I was gutted.
As the plan was falling apart I had emails containing advice coming from all directions. As helpful as it was intended to be, I didn't have a clear picture of the whole problem at that stage so it was impossible to do much about anything. It did add to the stress somewhat, and it was particularly frustrating when people asked for information I simply didn't have.
Little did I realize that I was battling unions. For some reason, yet unexplained, the unions don't want Sidelifters in the USA. Companies had tried to introduce them before, only to end up bankrupt. The shipping and trucking companies have little option but to do what they are told. The fact that the crane had to drive across LA was another enforced issue. All of this added a huge cost, and it was well beyond my resources.
So anyway, after I had instructed the shipping company to return my aircraft Vicki and I sat down for breakfast and had a discussion about other strategies we could employ. What we decided was to raise our profile. Since my main worry was that I would never see my plane again, we figured that if the public were watching we stood a better chance of at least getting the plane back. Since Vicki uses Facebook a lot for her business we elected to start there and so by mid-afternoon we had a Facebook page and rapidly building a following.
Within three days the power of social media was starting to take hold. We had managed to gather around 250 interested followers, I'd received a call from the local newspaper for an article and several emails from people all around the world interested in trying to help. In fact some people wanted to start a phone call campaign against the shipping company. We managed to keep that one under control. The pressure must have been felt by the shipping company as we received a request for a meeting in their head office. I was in no shape to go to any meeting. The stress and upset was such that I feared that anything I would say wouldn't be particularly constructive so I declined the offer. Vicki saw the benefit in the meeting however and agreed to go on my behalf.
By the end of the meeting Vicki has successfully put our case forward and we were back on. The shipping company agreed to honor their original quote and absorb any losses due to their own mistakes. During the meeting the shipping company also let slip that they had lost my Carnet [a "Merchandise Passport"] and somebody was requiring import taxes to be paid. Fortunately they had kept that from me and managed to sort that mess out.
With the roller coaster of emotions it was difficult to be elated but I was cautiously optimistic that maybe we had things back in motion. We had to quickly change the name of the Facebook page, since it had previously mentioned the shipping company by name but people continued to follow us on the new page and I think generally enjoyed what followed.
A few days later we jumped on a flight to Los Angeles as originally planned and headed out to Chino to accept the container. We'd been told to accept the container around 10am but I was keen to get the a little early to get organized. Around 9am we were just approaching the driveway into Chino airport when Vicki said, "I can see a big crane, and it looks like its lifting a container!" Great, why was I surprised.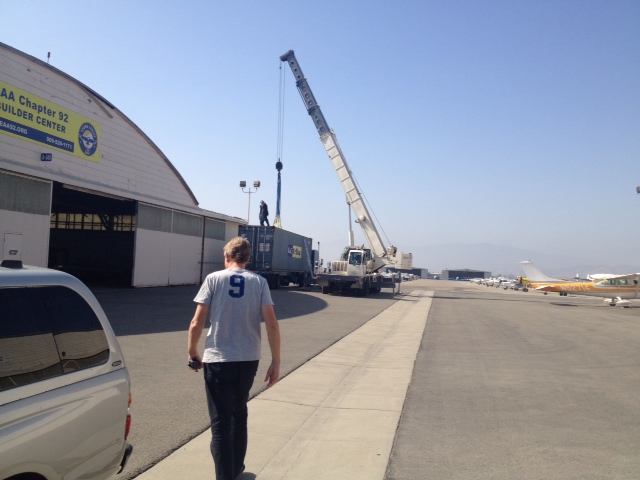 Fortunately for me, Vince Orton and a few of the Guys from EAA Chapter 92 were on the scene and had things nicely in hand. In fact, Vince had taken control. Pretty damn good considering I'd never met the guy and especially since, I'd later learn, he doesn't do mornings! So a quick greeting was in order, and we got right to work opening the container. The way I had to pack the tail section into the container had the tail on a 45 degree angle in order to fit it in. That with everything being placed in odd angles did look more than a bit chaotic to the untrained observer so when I opened the door there was a few looks of concern from some of our new Chapter 92 friends. Fortunately though, it had arrived largely unscathed. There was a few small bits of cosmetic damage and a broken battery box stay due to something moving and hitting it, but I was on the whole, pretty lucky.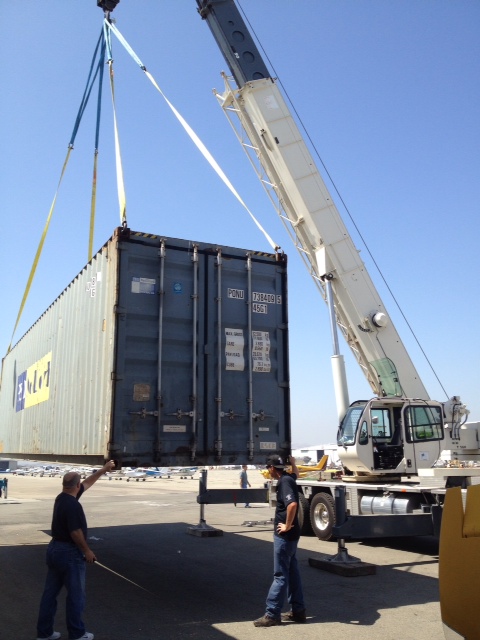 About an hour later we had extracted the machine from the container, the forward section had been lowered to its normal attitude and the container was being reloaded before departing for somewhere else and the meter could stop on the ridiculous over-charging.
I set to straight away putting the machine back together and by around 16:00 the engine was back on. The temperature was getting up a bit by then so I called it quits for the day and went back to our hotel for a swim.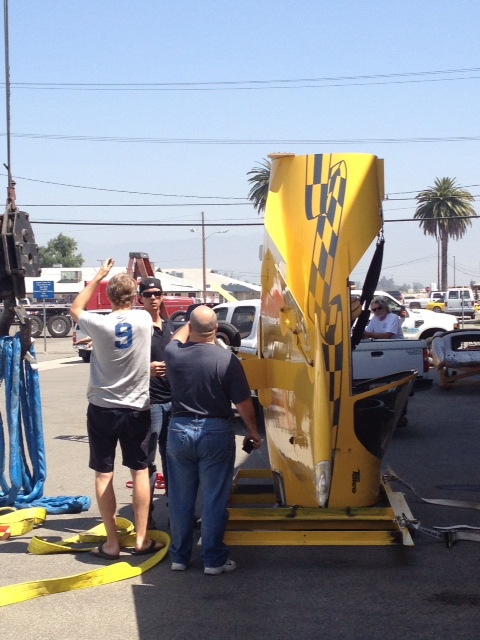 And so it went. Over the course of the next three days I returned the Falco back to flying condition, had the controls duplicate inspected (a New Zealand requirement), fueled it up and ran the engine. The next thing was to test fly the airplane as required by the FAA in order for them to issue me a Special Flight Authorization to allow me to fly the plane in the USA. Things had changed a little however. The original plan had me test flying the plane before returning home but after a visit from the guys from the local FSDO they decided it wasn't going to need much and so it made more sense to test fly immediately before leaving for OSH. This meant I'd now return home for a month leaving the Falco untested. No big deal.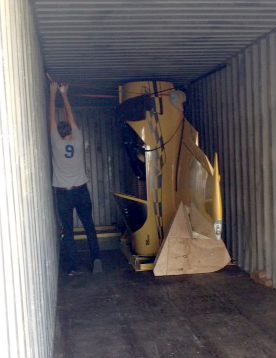 The last order of business in preparation for the adventure was to get some training on US airspace and procedures. I'd taken a few courses with King Videos, but I wanted to cement what I'd learned by talking with an instructor so I booked an hour of practical instruction with the local flying school. The instructor talked me through a few of the procedural differences so I wouldn't make a complete idiot of myself in the busy SoCal airspace and followed it up with a call to the flight briefing folks to run through a dummy flight plan application and full briefing so I knew what to expect. It was invaluable, and I certainly felt a lot more confident in the knowledge of local procedures and airspace.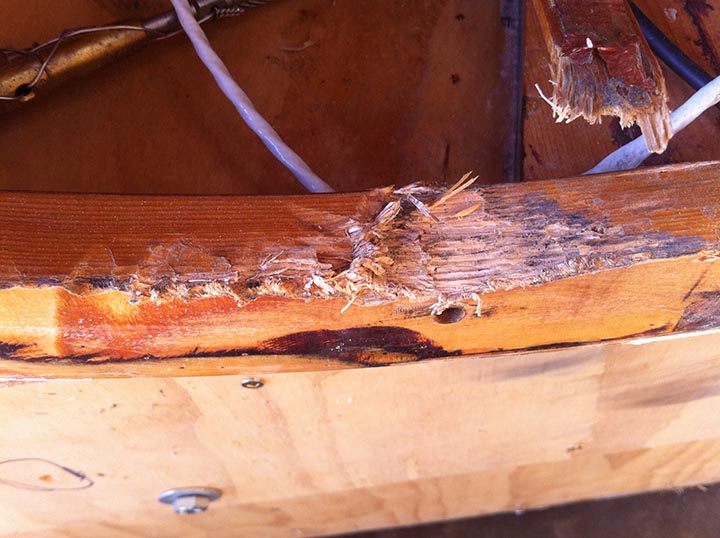 Shipping damage
The machine had gone together quite quickly so Vicki and I took the opportunity to have a short vacation before the return home. Of course the local shops did quite well too. The local economy had a brief reprieve.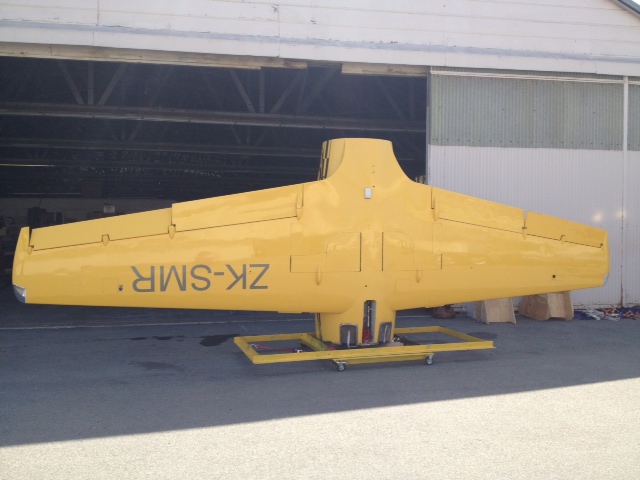 Putting it back together
The next month at work waiting for the trip to begin seemed a lot longer. We'd had a taste of what was to come, and I just wanted to get on with it but I had to pay for it somehow so I had no option but to stick to plan A. I spent the time reflecting on the great people we had met so far and how friendly and helpful everyone had been. Not many people at home had shown significant interest in my little project, but the folks in the USA all seemed fascinated that someone could even want to do such a thing.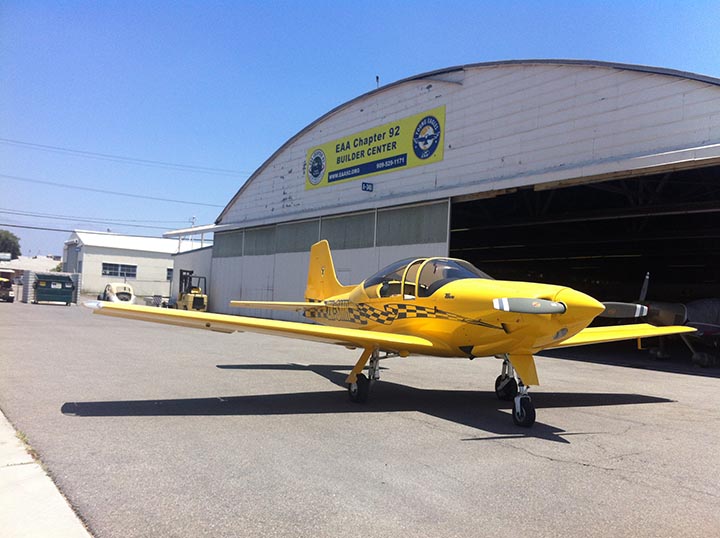 Ready to go
The day eventually arrived and I was again boarding Air New Zealand flight number 2 bound for Los Angeles but this time with a big exciting adventure in front of me. I was excited for sure.
The first day back at Chino I dragged the plane out for a wash. A persistent westerly in Chino picks up a lot of dust from surrounding fields so the Falco had gathered a heavy layer of dust and dirt. While it was out I ran the engine again, updated the GPS data and generally got everything ready to go for the main event in two days time.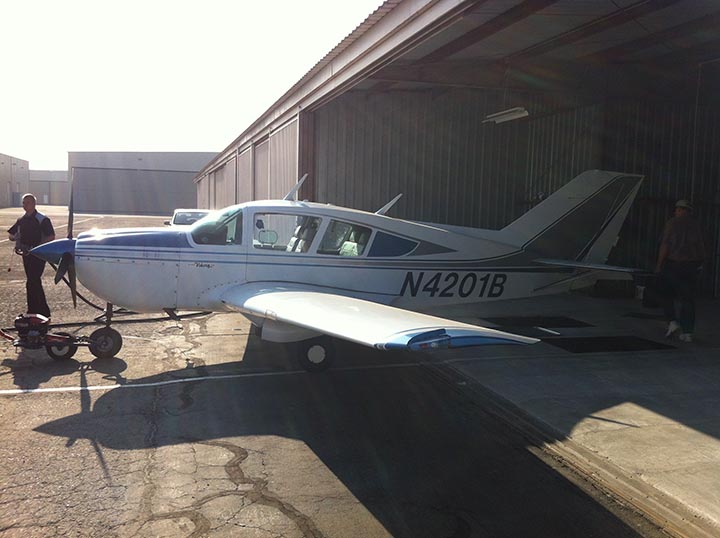 The following day I met up with Frank Holbert who is a Bellanca Super Viking owner. Frank has a really interesting website (160knots.com) showcasing his airplane and his flights to interesting places. I had used it to get some ideas for places to visit and listen to local air traffic control. This day Frank had offered to take me out to Santa Catalina, an event I couldn't turn down. So we met up early and flew initially out to Santa Paula to meet up with the local Super Viking expert and have a look at what he has going on in all of his hangars.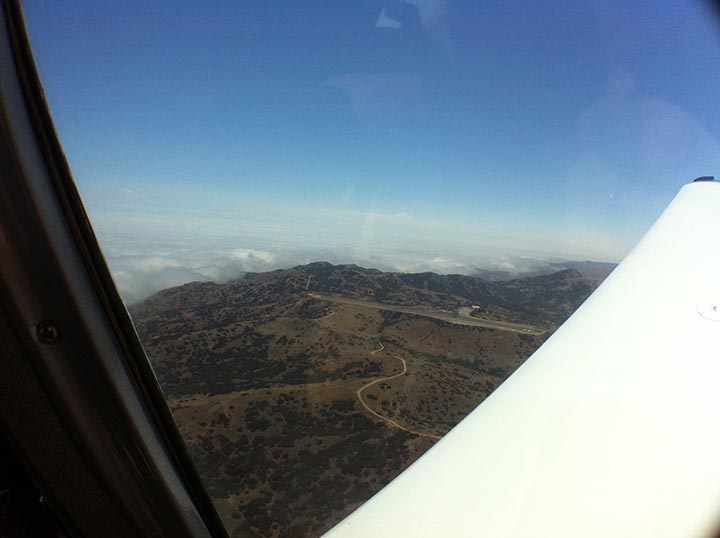 Catalina airport
Dan wasn't there when we first landed so we wandered over the runway to the airfield's restaurant to enjoy brunch. This is one of the things that really impressed me about aviation in the USA and particularly California, namely the amount of airfield attractions that add to the richness of the aviation experience. In particular the airfield restaurants, we have so few but there seems to be one almost everywhere in the USA. One of the benefits of population I guess.
After brunch we headed off to see Dan at his company, MARS.
After a really interesting hour or so with Dan showing us all sorts of interesting things and going from hangar to hangar uncovering all sorts of little gems, we headed off to Santa Catalina. By now I was getting a feel for the local procedures and was feeling quite comfortable. The flight out to the island was over a heavy fog layer that covered the whole seaboard from inland of the coast to as far as the eye could see. Initially we couldn't see the island but Frank assured me that since it enjoyed a higher elevation that we would easily get in. In due course the airfield came into view just as Frank said it would.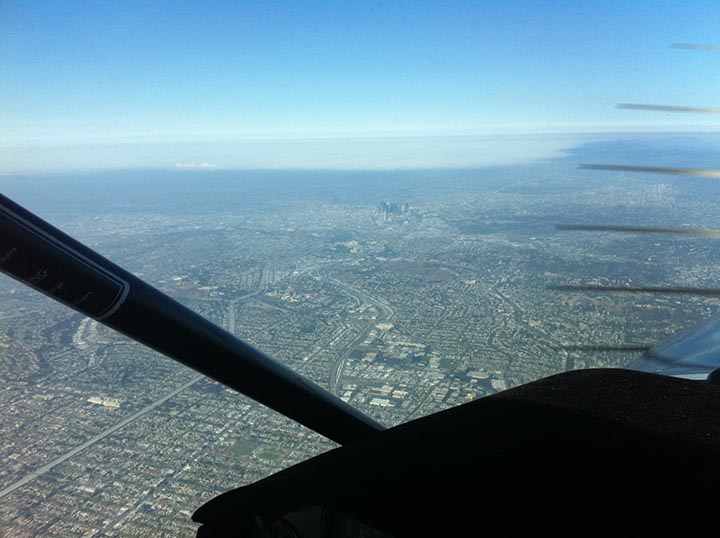 Over Los Angeles
We went for a short hike around the airfield, taking in the sights which included looking back toward LA over the fog layer and getting reasonably close to one of the sixty or so Bison on the island. After a drink and a chat we headed back to Chino. The day was a lot of fun but more importantly very instructional. I learned a lot, and it was great to observe the ATC system firsthand without having to fly.
The following day I completed my preparation and waited for Darryn Morgan, my traveling companion, himself a 737 captain, to join me for our big adventure the following day.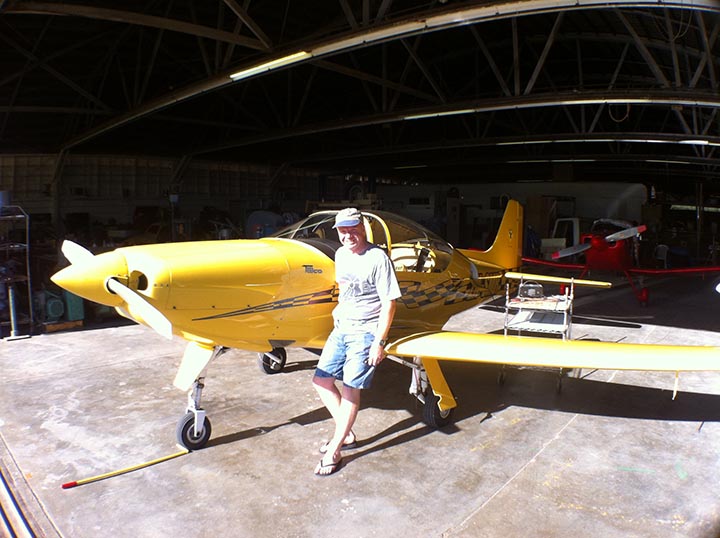 Darryn Morgan
Darryn arrived as planned. We had a brief catch-up and discussed how the next day was planned out. We organized our things into piles of go and stay, had an early dinner and hit the hay with all our fingers and toes crossed that tomorrow would dawn clear so we could get away early.

Go back to George Richards