A Falco Pilgrimage,
Chino to Oshkosh
Departure Day
It was 6am and the alarm went off. We'd been awake for a while and someone's fingers must have come uncrossed because outside had a typical 'June Gloom' Chino overcast. Not a great start to the day. However we continued in hope, got ourselves ready and headed off, via Starbucks again. On arrival I preflighted the Falco and waited for Joe from the FAA to arrive. He was there on time and was very helpful as usual. Unfortunately we had to make him wait as I didn't think it was a clever idea to take a plane on a test flight in an unfamiliar airspace with poor weather.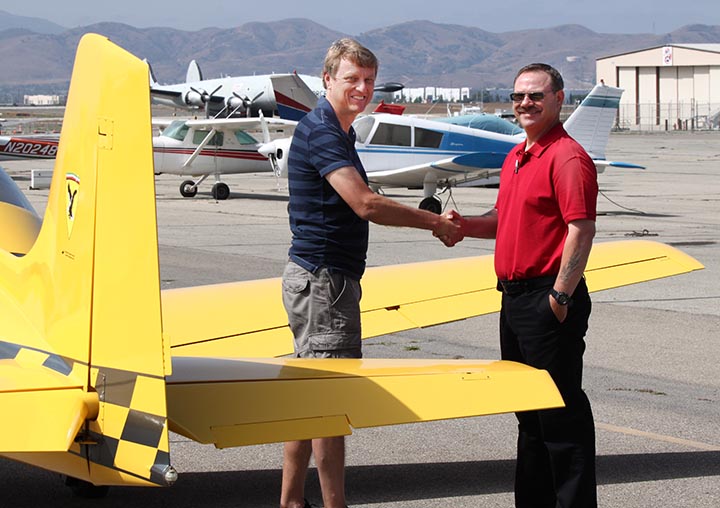 FAA approval
That didn't seem to bother him. In fact he went away so as not to make me feel pressured. We did spot him a one stage out writing a citation for a Cherokee owner that had been flying without a current maintenance approval. Yikes. We weren't making any friends here! After about and hour and a half it started to clear so we dragged the plane out, I gave it one last look over, filed a plan and departed for a short flight. It was a busy flight and was quite exhilarating. The weather still wasn't ideal making it quite busy, especially being strange airspace. I would have liked a little more capacity to have a more relaxed view, but it was fun just the same. Once I got back, Joe met me again, shook my hand with his good wishes, and we were cleared for the Kiwi Oshkosh Adventure departure.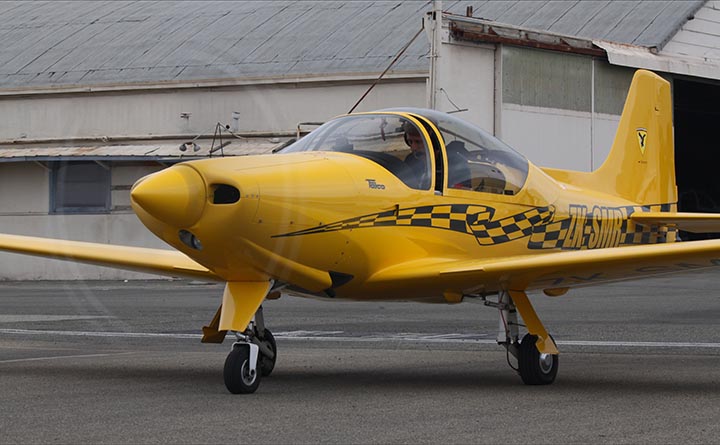 Taxiing out for test flight
Darryn and I loaded up the Falco, I had a look around the machine again, I filed a plan and received the longest brief of my life, and we were off!
The controllers were great. Clearly the Kiwi reg on the plane and the aircraft type caught them off guard a bit. Not helped by our accents, but they were super helpful. Again, what great service. We got a clearance up through class C to 7500' and settled in for our two-hour flight to Sedona.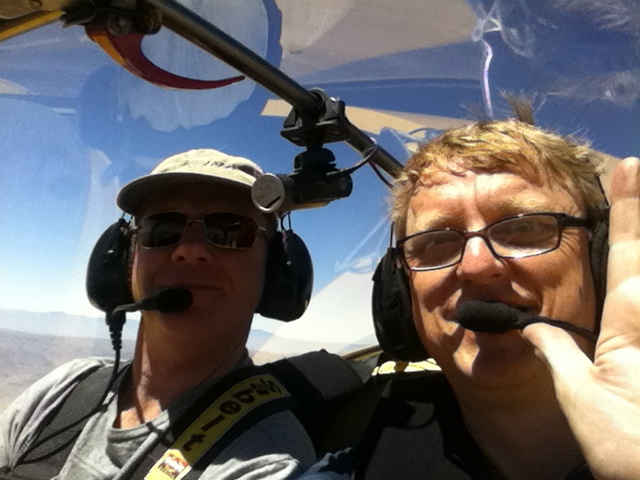 First sector
The first thing I really remember of note was after leveling off at cruise altitude and flying for about 30 mins I had been spending so much time inside and scanning the airspace I hadn't really looked at the terrain.
Desert
At that point I relaxed a bit and looked out at the desert. I really wasn't ready for it. Holy s--t. Now that's a desert. Straight away I realized one important thing I hadn't planned for and hadn't appreciated. If we went down here we wouldn't survive with the limited water we had. I stopped drinking to preserve what little water we had. I didn't want to mention it to Darryn but on comparing notes later, he had the same thought. It really is hostile. Never again will I call the desert road in NZ the desert road. There's nothing desert about it.
Along the way we altered course slightly to avoid the big suck from CBs forming above us. But all in all we had a pretty decent ride considering the later than planned arrival time into SEZ.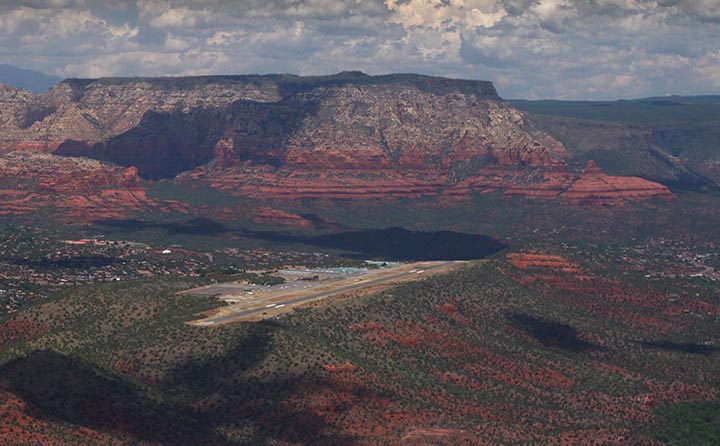 Sedona Airport
As we approached Sedona the terrain became familiar to what we had studied. The airfield is perched on top of a plateau called a Mesa (that term was new to me). It really is an airfield in the sky. I was a bit too busy to take in the scenery at that stage as I was contemplating the effects the strange airfield location would have on my approach.
After landing we checked in at the local FBO for fuel for the next day and went and had lunch at the Mesa Grill. What a cool place to eat with the best scenery I've ever seen.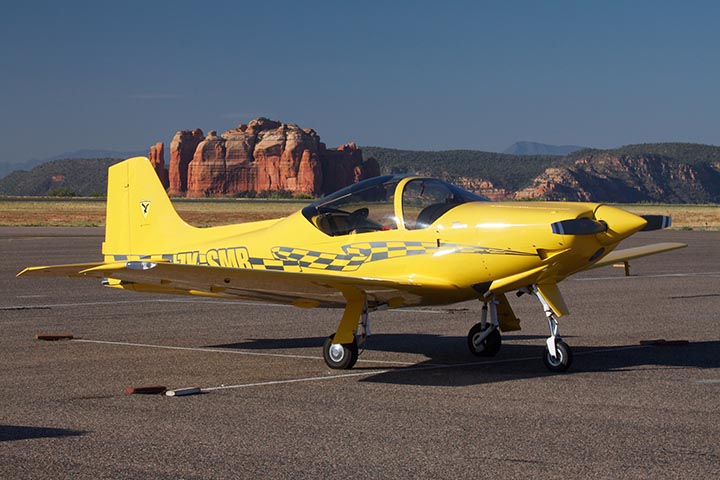 Parked at Sedona
After lunch we refueled and ordered a taxi to our hotel. On the drive from the airport we went past a lookout point. As we started driving down the road on the edge of the ridge the vista of the northern ranges with the stunning red layers rocks came into view. I had just finished exhaling, and I literally couldn't breath in. It truly was breathtaking. It's indescribable but as Vicki says, this place has to be on your bucket list.
The lady at the hotel was really friendly. Showed us some of the places to see. Unfortunately since we had been held up in Chino the day was short so we didn't really have the time to have a good look around. Also the main purpose was to get to Oshkosh and get ideas for places to visit another time. So we just enjoyed what we could.
The rest of the day we wandered around taking photos. Mine just iPhone and Darryn on the flash camera gear. We had pizza and beer for tea for a wind down. What a great day.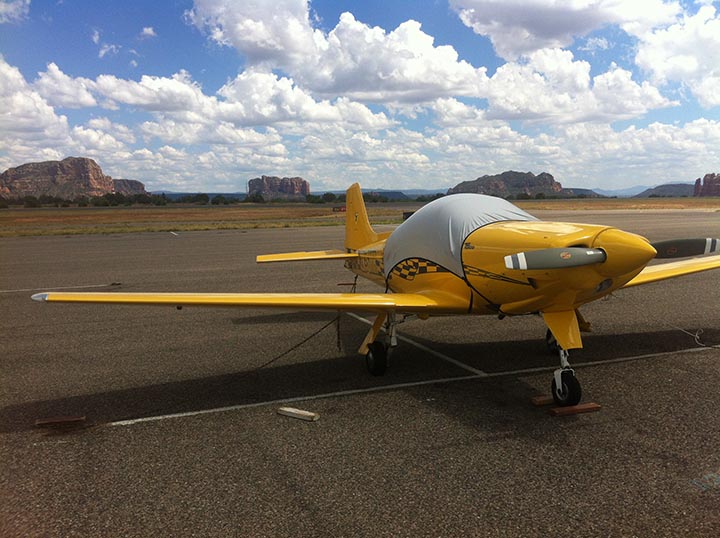 Day 2 Sedona to Santa Fe
Another early start after a not-so-great sleep. The taxi picked us up at 07:00 and we arranged for a quick stop at the lookout. We didn't want to miss that opportunity again. Sedona really is an amazing place. The views are stunning. I will be back!
Leaving Sedona
On arrival at the plane I found everything I'd lost the day before. This time was Darryn's turn to fly. By 8am we were airborne off Sedona's runway 21 climbing to 9500' on our way to Santa Fe, New Mexico. We enjoyed the last views of Sedona on the climb out before heading west.
The first disappointment for the day was passing Winslow and realizing that we had missed seeing the massive crater formed by the meteorite collision. I had it in my head it was after Winslow for some reason. We had sorted that out the night before exactly where it was but after a sleep, I reset back to stupid and Darryn forgot to mention it. What also interrupted our thought process is that we thought it appropriate to play 'Take it Easy' by the Eagles while we flew past Winslow. We were so pleased with ourselves we forgot about the crater until we were too far past it. Darn!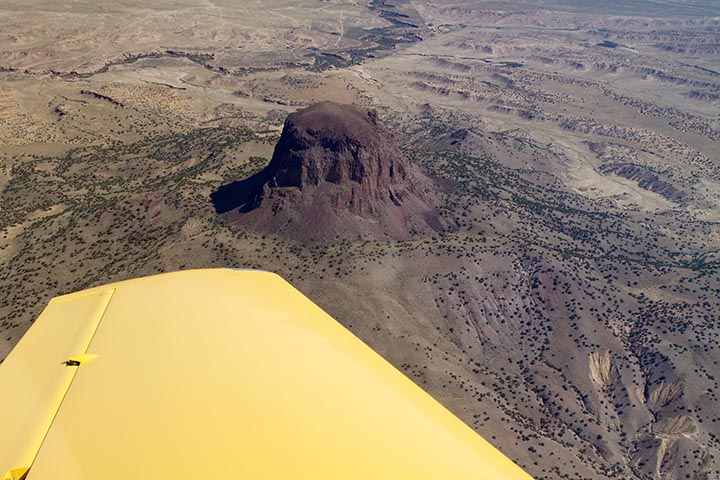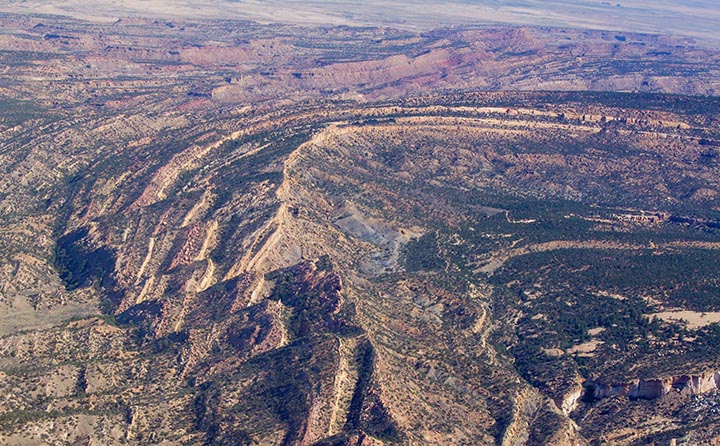 The trip was the highest DA the airplane had ever experienced however it performed flawlessly. TASing out at 165+ which considering the load it was carrying was a pretty good effort for a 160hp wooden airplane designed in 1955!
The landing into Santa Fe went pretty much as expected however we were already learning some things about high DA landings. It was around 8500' when we landed, and it was clear full flap wasn't the best idea we'd had all day. Still, again the Falco handled it pretty well.
The controller at Santa Fe was great. He helped us find the fuel pump and was interested where we were from. It took a bit to figure out the local fuel pumps, but refueling it ourselves saved us a bunch. It cost us $5.86 a gallon, but if we'd have gone for full service it would have been $7.53. Yikes!
One of the technical issues we need to get right is the conversion of fuel volumes. We don't want to join the long list of people who have got that wrong.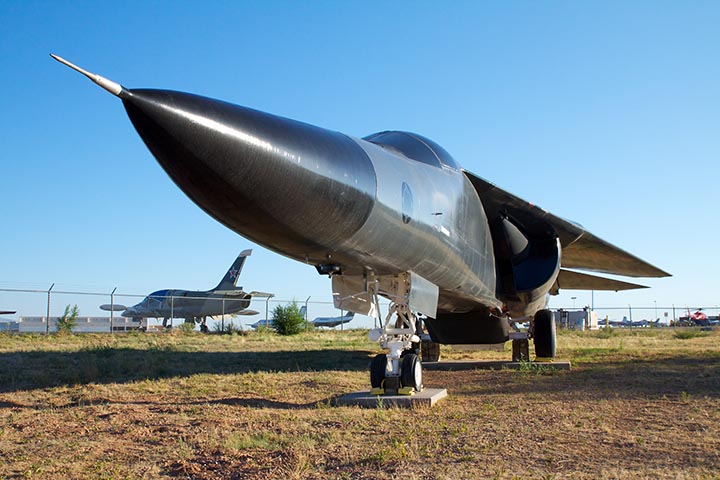 Santa Fe parking lot
On arrival a nice guy drove up and chatted for a bit. He was funny. He yelled from his truck "Tell me you flew that fu--er all the way here." Then said, "Hey, what does a Polish pilot say when he sees a grade 6 thunderstorm in his 12 o'clock?" "Let's do a 360 and get the hell out of here." Funny. He is an ex-Navy P3 Orion driver who while never visiting NZ he knew a lot about it. I'm sure he would have met guys from work.
On arrival at our hotel I realized I had left my credit card in the pump. After a panicked phone call to the local FBO from the hotel it was rescued. I felt a bit guilty about the self-serve gas after that.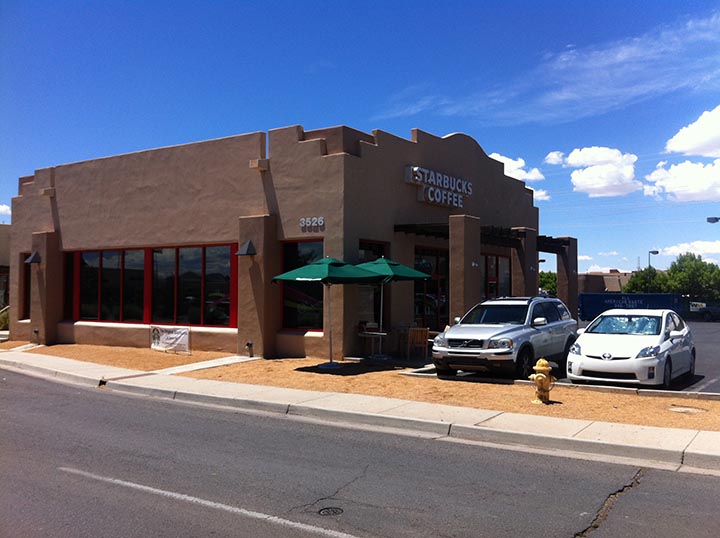 Santa Fe Starbucks
After checking into our hotel, we went for a walk around Sante Fe. It certainly is the city different. It's got a cool vibe to the place. Everyone is super friendly as usual for the USA and the architecture is very much as you would imagine for a New Mexico. Never before have I thought a horse would be more appropriate form of transport.
Parked at Santa Fe
Day 3 Santa Fe to Longmont
Before we began I had to rescue my credit card from the local FBO staff who had kindly offered to retrieve it from the fuel pump for me.
Continuing on the fuel theme, Darryn had left the dipstick on the wing the day before so that too needed rescuing but fortunately he located it after a quick hike back to the fuel pump.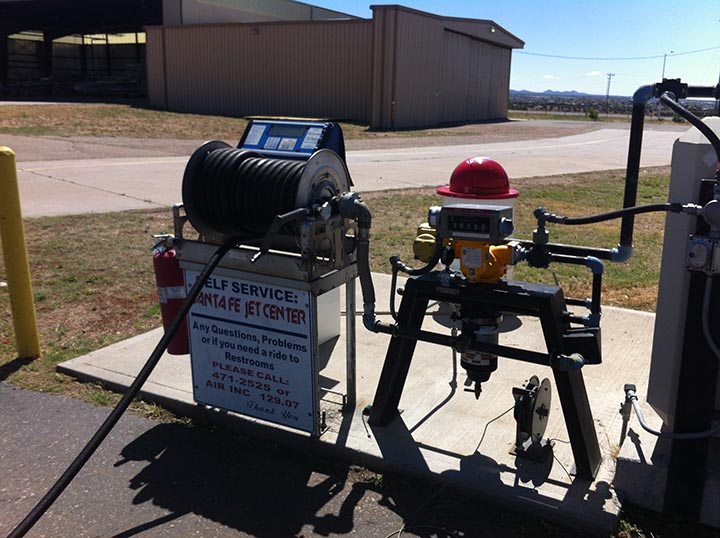 The dreaded Santa Fe fuel pump
At 08:00 I pushed the throttle in on the takeoff that had started my whole weight loss regime back home. The DA was indicating 8600'. The little airplane, despite gasping for breath, pulled away quite admirably but, as expected, the takeoff roll and initial climb was nothing like its normal spirited performance. I waited quite a while before lifting the gear since the runways are loooooong up at these altitudes.
The transit light stayed on for longer than normal before finally popping the CB. A minor issue that I could fix in LMO. I figured the toggle on the up switch had likely been bent slightly in the shipping. As it turned out it was an intermittent switch that we had to live with until coming home, but it only played up a couple of times.
After being cleared for a frequency change we tried local flight service to activate out flight plan. No joy. It was going to be one of those days. We swapped to Albuquerque Center to try for another frequency but ended up receiving flight following and being advised no flight plan was on file. Something had gone wrong somewhere with that too. (It turned out to be finger trouble on his behalf.)
Well we were on our way already so I wasn't going back. On we went. Hopefully the TSA weren't watching!
Initial tracks had us flying slightly southeast in order to get past the lower end of the Rockies after which we turned North bound for Duane's airfield at Longmont, CO.
The ZK registration was clearly something different for the controllers. Some seemed helpful, some more on edge.
The scenery was a beautiful mix of mountain ranges on the left wing, deserts on the right wing and changing under cast from trees and campgrounds to parched soils. Even still the areas were clearly farmed in some way. I would imagine the farmers would face similar barriers that the outback Australian farmers must face.
Heading north past Colorado Springs the controller advised our transponder had failed and asked us to recycle. He never really told us it was going again, but it was clear from the start that he never really wanted us anyhow.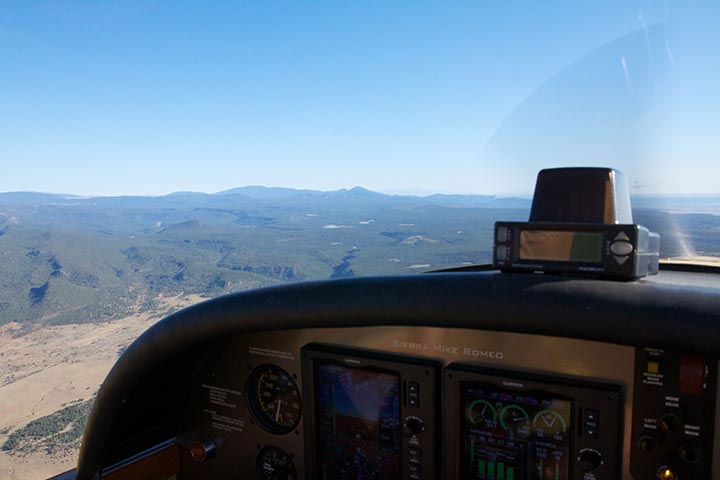 Santa Fe to Longmont
Springs Approach finally dumped us leaving us to navigate around the Denver class B and into Longmont. The Garmin GPS and my GPS capable iPad really paid dividends there, making the approach into Longmont a piece of cake.
We passed over a clearly affluent Longmont with some fairly expensive looking houses situated beautifully between lovely green trees, to join the circuit on an upwind leg for runway 29.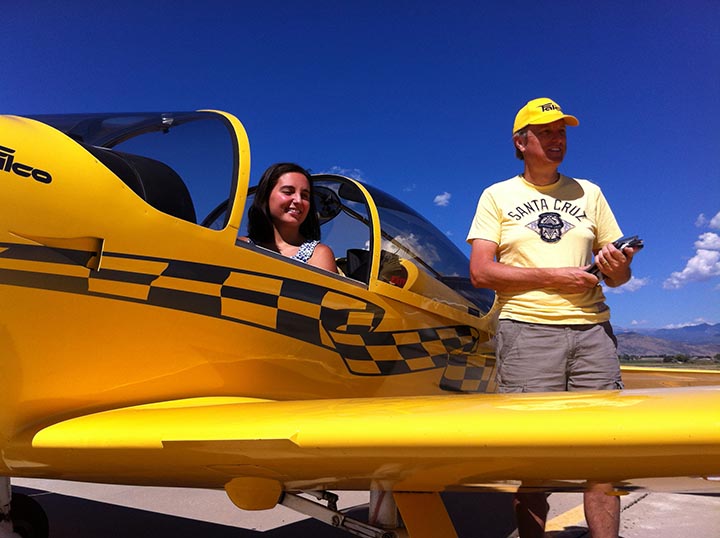 Reporter at Longmont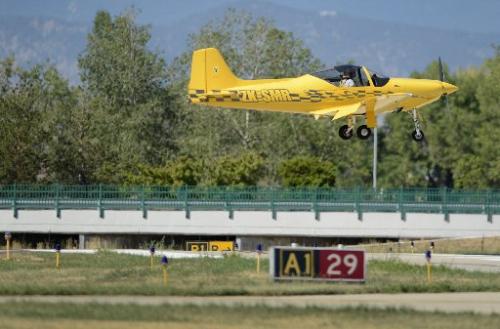 Longmont airport is about 1000' below Santa Fe but still high. I used my standard low altitude approach technique. You have to learn somewhere but obviously not quickly in my case. Next time, less flap.
We vacated at A2 and looked around to see this crazy guy on a pedal-assisted Peugeot motor scooter.
Duane!
We cracked open the canopy to be greeted by a friendly New York accent. It was great to finally meet. What a great guy.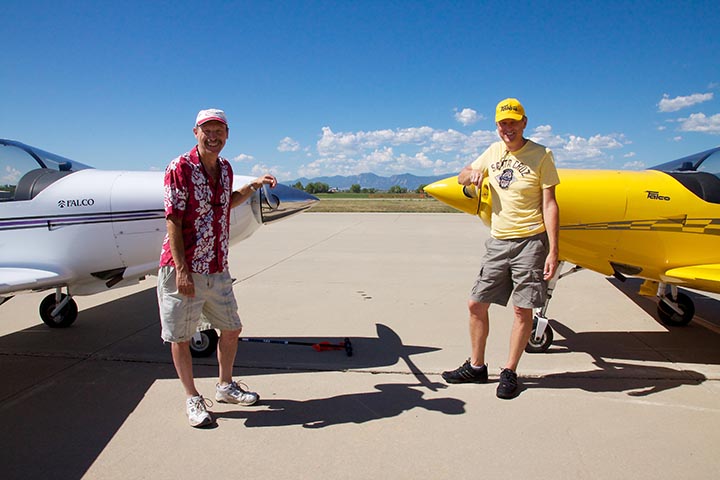 Duane Root and George Richards
We we're in the middle of joining up the geographical divide when a couple of reporters from the local paper turned up. That led to a lengthy session of photo shoots and talking. It was a lot of fun but the sun was savage so when we finally finished it was a relief to get out of the heat.
The lead up to arriving in Longmont we had enjoyed a friendly battle about where we were going to stay. I was concerned about overstaying our welcome but after Duane's "OK, let's cut through the bullshit!" it was clear we were staying with Duane and Mary for a couple of nights. Added to that, one of Duane's friends, Doedo, had offered us the use of his airport car.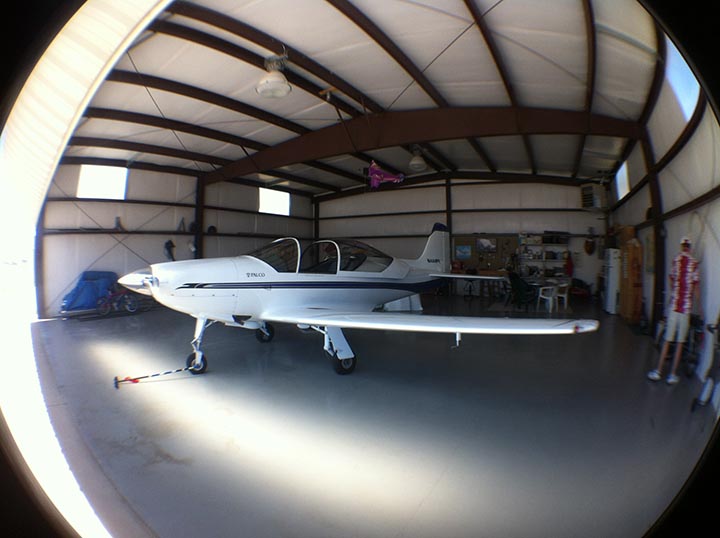 Duane's hangar
Staying with Duane and Mary turned out to be one of the best things we did. What a great time. Duane and Mary are the nicest you could be privileged to meet. It's amazing how the Falco can bring people together across the globe.
Anyway. In the morning after a tasty omelette from Duane we headed out to the airport to gas the plane up. Just as I primed the plane to taxi it, Duane decided to jump in. It was hot at the airport, and I think the time he took to get in boiled the fuel off in the lines. Needless to say, starting was a bit of a fiasco. It normally takes about two blades when cold, anyway the good side to that was Duane taught me his method of hot starting at this altitude which worked great. Always nice to learn something new.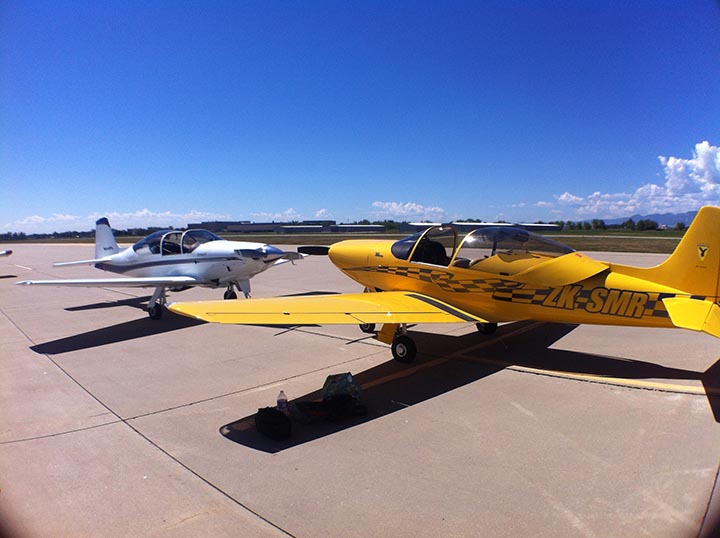 After refueling we took off for a quick look around Boulder. Wow, another really beautiful spot.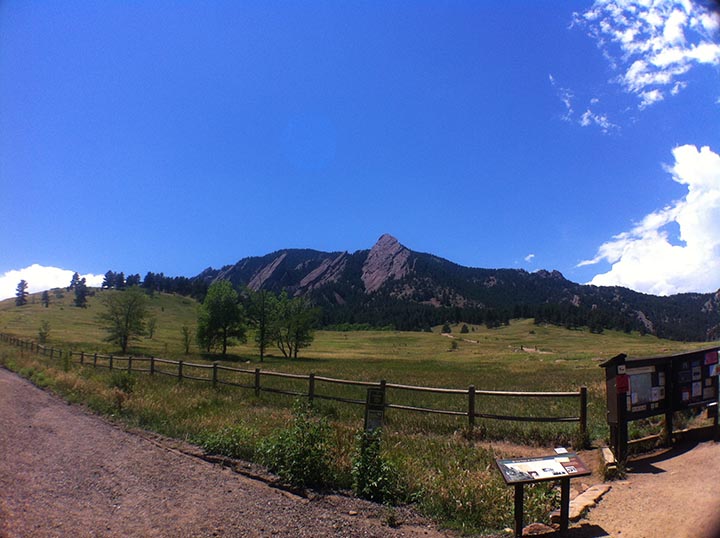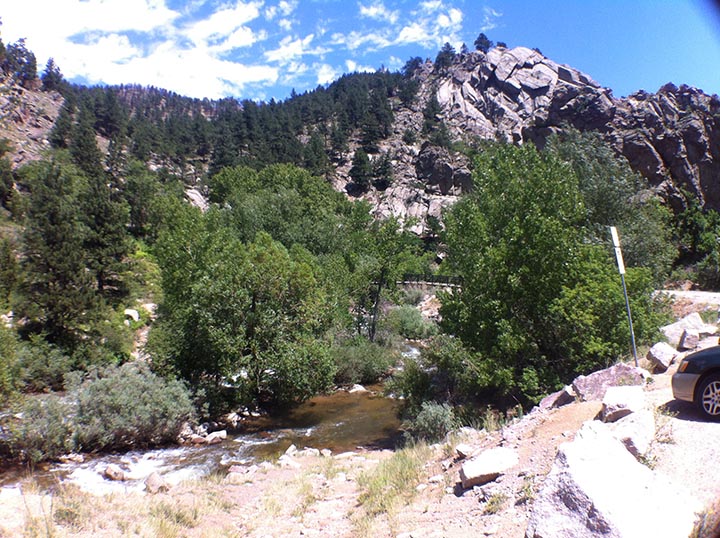 Boulder, Colorado
The afternoon was again talked away. It was really great sharing experiences and views with our friends.
Dinner time we went into Boulder for a meal and a wind down.
An awesome rest day (Day 4) with some great people before tomorrow's flight.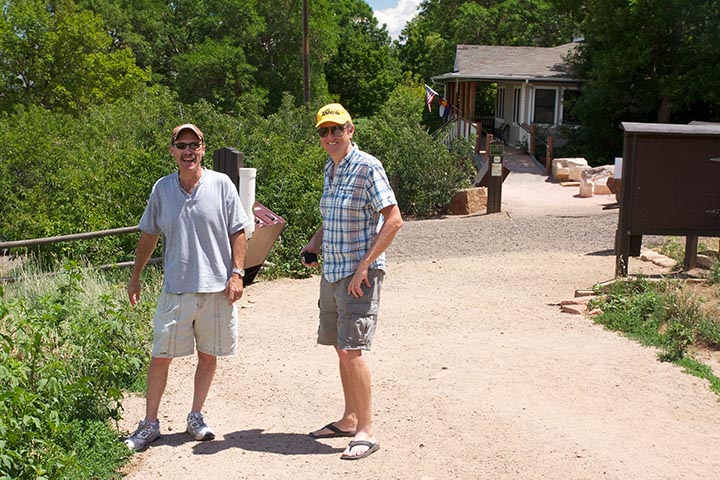 Duane and George
Go back to George Richards