A Falco Pilgrimage,
Chino to Oshkosh
Day 7. Appleton to Oshkosh
The day has dawned. Timing is everything for today. There are several large contingents of slow airplanes arriving in packs today. I wasn't really keen to tangle with them and in fact we would likely be put in a pattern to wait while they all landed. There's a huge group of Cubs arriving in the morning but unfortunately the best they could give for an ETA is somewhere between 06:30 and 12:00. That's not helpful for everyone else.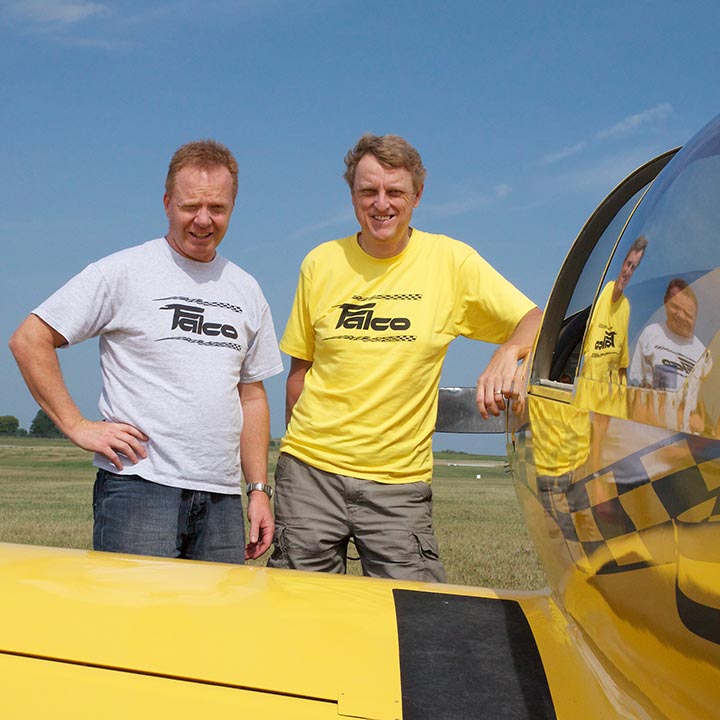 Before leaving Appleton for Oshkosh
Then there is a huge group of RVs due in the afternoon.
We picked 11:00 local for our departure from ATW in the hope that we find a sweet spot.
The previous night we went over the Airventure NOTAM together, made a checklist and assigned jobs for each of us and cleared each of our expectations of the other so there will be no unexpected actions while airborne.
When we woke up we looked at the weather radar. Phew. It's nice the way things can work out sometimes. If we had gone to Mineral Point we would have had a large line of severe weather to negotiate. Something I wasn't keen to play with. They aren't toy storms in this neck of the woods.
Unfortunately Duane and Mary spent the night in Pella so they would have to deal with them. As the day went on, fortunately the storm line between them and OSH did dissipate somewhat so we hoped they would get a good shot at it.
Our flight plan went on file at 09:00 local for ATW to OSH via the NOTAM VFR arrival route point of RIPON several miles to the South West of Oshkosh.
Next we wait to be picked up.
The excitement was brewing.
The transport dropped us off at the plane. We were the only ones near the parking exit, making our departure easy. We preflighted, loaded the GPS, picked up a clearance and taxied to holding point D2 for runway 30. Traffic was landing on the crossing runway but after only a short wait we were cleared for takeoff and out on our desired course.
After being cleared for our frequency change we opened our plan with Green Bay to satisfy the TSA and headed South to RIPON, the entry point for the Oshkosh VFR arrival procedure. There was a little traffic along the way but nothing startling. Our plan seemed to be paying off.
Duane had recommended we take the higher performance arrival at 2300' which we were keen to do but decided to make the final decision as we approached RIPON depending on what traffic was around. As we approached, we were ahead of one at 1800', the slower 90 knot arrival altitude, and were comfortably behind a Mooney also at 1800'. Being of similar performance it seemed like a good fit to sit in the slow lane with the Mooney. We could see quite a few in the fast lane too so we were happy with the Mooney plan.
I popped the gear and settled in at 90 knots. It gave quite a high nose attitude but we didn't really need to see down. The navigation was a lot easier than I had thought it would be.
As we approached FISK, the next waypoint in the VFR arrival route, we listened for the Mooney ahead to receive its landing instruction which duly arrived as an instruction to take the track down FISK Ave for the runway 36 arrival.
We were going to be next.
"RV type approaching FISK rock your wings" came across the radio.
Well we weren't an RV but we knew it was for us so I dutifully rocked the wings. Our arrival instruction was basically to follow the Mooney.
As we turned east the Mooney slowed considerably which he wasn't supposed to do. This didn't make life easy. He added to the fun by descending making him hard to see. We weren't quite on the ragged edge but it wasn't really a comfortable speed.
There were a lot of two-way comms going on despite the NOTAM saying it wasn't to happen.
Grandma in her Mooney finally got her clearance to land on the yellow dot half way down the runway and decided to speed back up to 90 where she was supposed to be. This did help as we received the same clearance shortly after.
The rest was cake.
The Mooney ahead touched down beside the yellow dot and was rewarded with a "nice job Mooney" and we followed. By now our type ID was reduced to 'the Yellow'. Okay Falcos aren't common so I guess the controller admitted defeat with the identification of type.
After landing we scrambled for the window card indicating we were to park in the homebuilt area. This saw the end of the Mooney ahead. He got sent off somewhere to oblivion and we got directed to show-plane parking.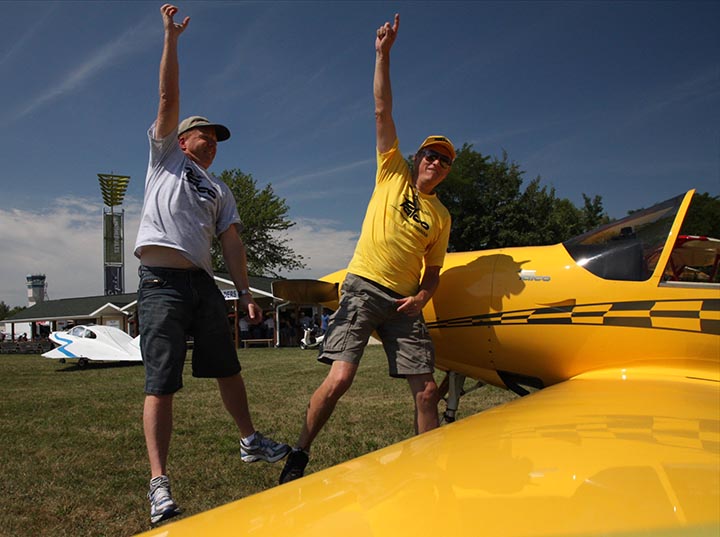 There's always an emotional let-down that comes with reaching a goal.
We got a prime spot and shut down. We were greeted by the marshallers but while trying to talk with them I couldn't help but feel slightly emotional as the culmination of two years in the planning had come to fruition.
After tying down we were spotted by an AOPA reporter who took an interest. He briefly interviewed me and set up an appointment for later in the week.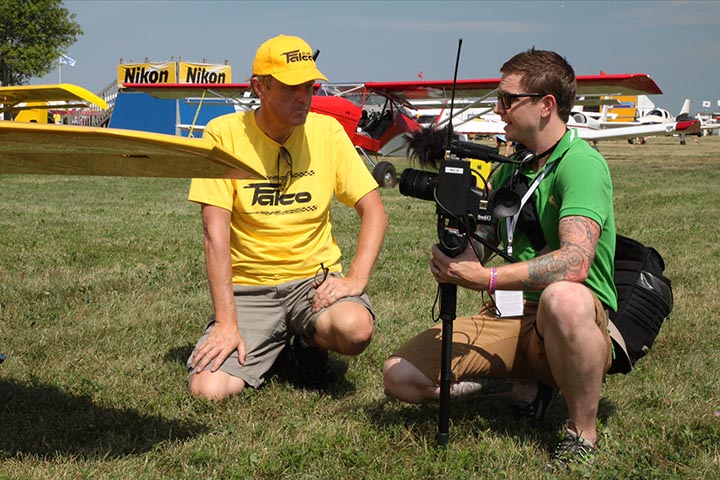 AOPA reporter with George
A friend from work turned up with his Canadian buddies to say hi, then we wandered off to get my FedEx box of fresh clothes.
An hour or so later we saw Duane and Mary taxi by and went to help them park. The greeting and more war stories ensued and the day slipped on by in the searing heat.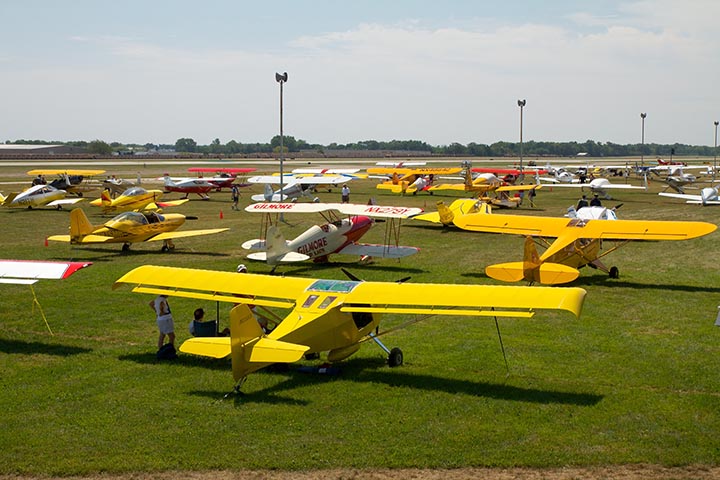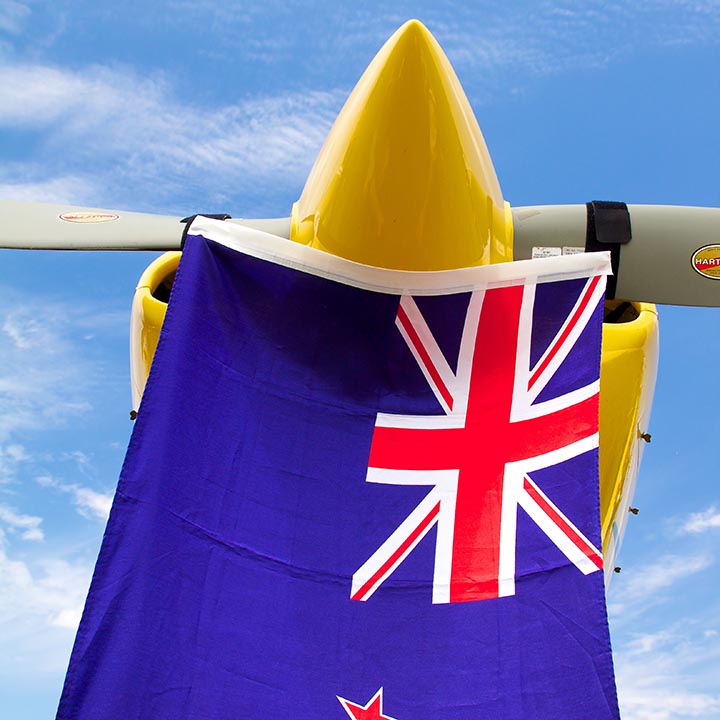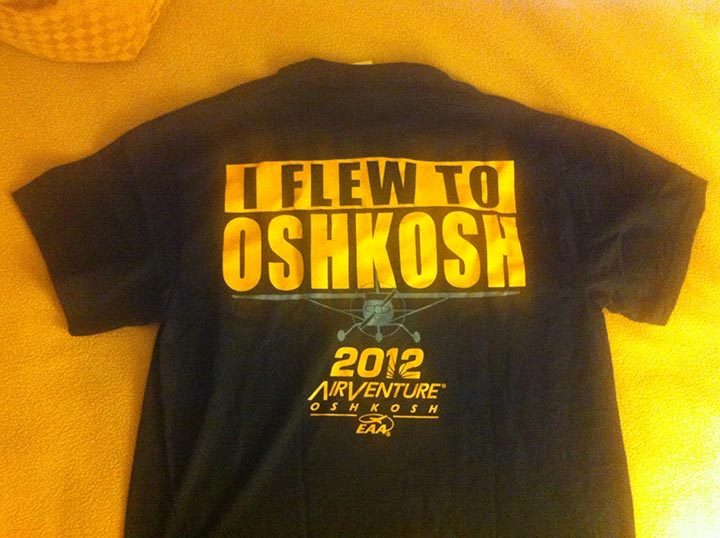 Darryn and I went for a wander south along the flight line and on the way back just happened to be in the right place as Bill Nutt taxied in. A brief hello and we were off again. This time in search of beer. Duane and Mary had the answer so we followed them for another troublemakers dinner.
It was over all too soon after a great time of laughs and good company as we had to head off to the bus.
And there we were. At Oshkosh. What a day! Even as I write this now I still find it a little hard to believe. It had been everything I'd hoped for and more.
It's been said that we all wind up dead in the end. You really do have to make your dreams come true while you can.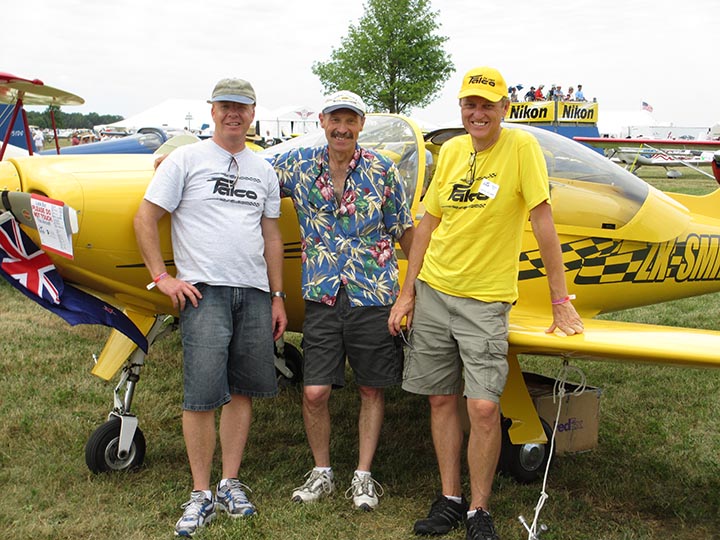 Darryn, Duane and George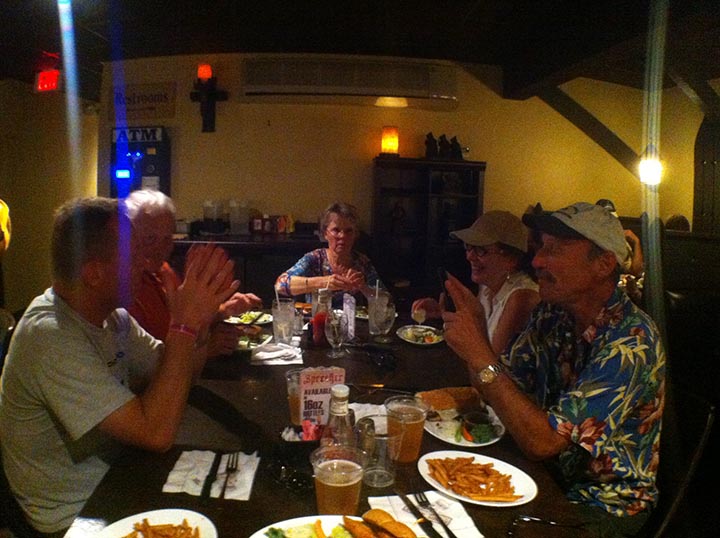 Troublemakers dinner

Go back to George Richards