A Falco Pilgrimage,
Chino to Oshkosh
Day 5 Longmont to Council Bluffs
Another 06:00 wake up today but this time with a twist. We were lucky enough to have Duane in the kitchen preparing his speciality egg sandwich, which is on a bagel. And really, what self respecting New Yorker does't know bagels? It was a tasty welcome before the kick-off of our longest leg so far.
Soon enough we were airborne heading east. We climbed to 7500', which is just 2500' AGL to avoid the Denver class B and settled in. The leg was basically one straight line with no other airspace other than the usual class E. We decided against flight-following so it was a fairly stealth trip listening to Darryn's playlists on his iPhone.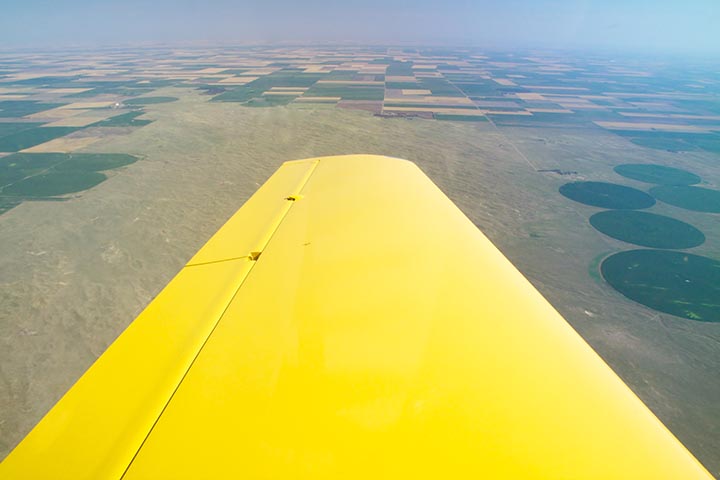 Enroute to Council Bluffs
We elected to stay at 7500 as the winds were favorable, and it was relatively cool.
As we progressed east we saw the ground gradually drop away from under us. The scenery was flat terrain without a lot other than irrigated circles followed by more irrigated circles. We noted several cropdusters along the way although obviously well below us.
We made excellent time eastbound as we saw the little Falco truing out around 168 knots and showing around 170-175 across the ground.
As we approached Omaha we decided to avoid the Class C and descended down to Council Bluffs pattern altitude to get under the upside-down wedding cake. Boy it was hot down there and the only relief, if you can call it that, was the vents blowing more hot air in.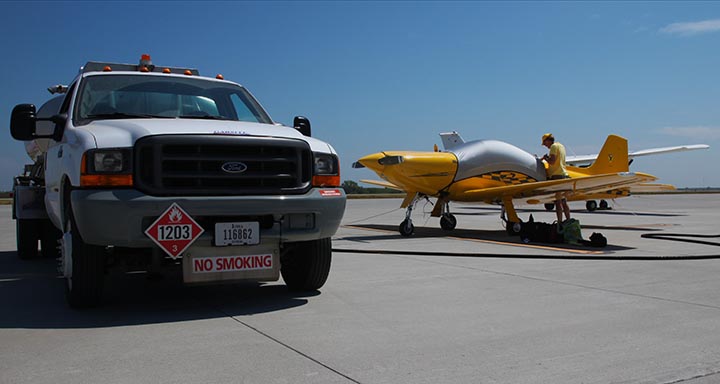 At Council Bluffs
We decided to use Duane's reduced flap landing technique, and it worked out pretty well for Darryn.
After we parked, the helpful line guy from the FBO actually ran over, despite the heat, helped us park and fuel up. Like most people he struggled with the rear tank cap. When I got to it to help him it fell apart. Dropping the center piece into the tank. Bugger! Something to do this afternoon.
We went into Advanced Aviation, the local FBO, to pay for the gas and get a rental car. We also used their free Internet to find a hotel in closer to Omaha. It was a Buick that was a joy to drive. It ran smooth, steered properly, the air conditioning worked great and when you pushed on the brake pedal, it stops! No rod knocks on this baby! Totally unlike the monster Forerunner we had almost got used to in Longmont.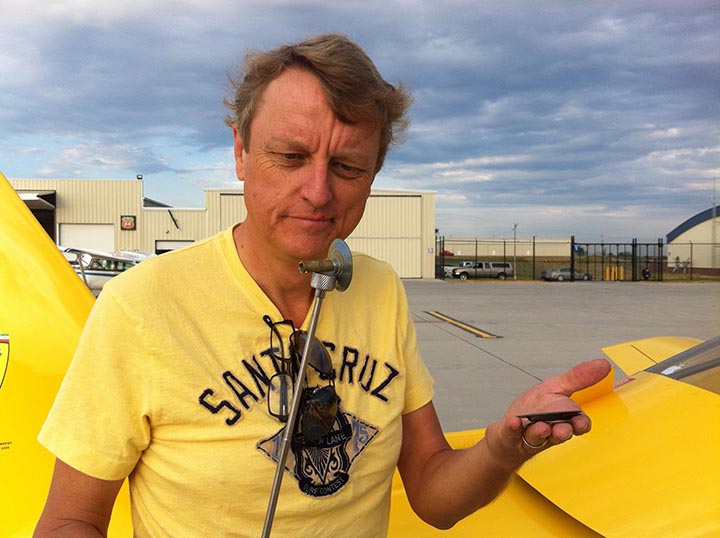 The fuel cap
We took off to the hotel, quickly settled in and started catching up on our washing. Something we were going to do at Duane's but were having too much fun.
After sorting out a new fuel cap from Duane, to pick up at OSH, we found a couple of items to come up with a temporary solution to the problem, in the form of bottle caps.
Darryn wanted something from the Apple store, so we set off to find it on the other side of Omaha in a really nice shopping centre called Village Pointe.
We did bit of shopping, got a tasty sandwich from a local restaurant then headed back to Harbor Freight tools to get an extension magnet in the hope of extracting the center of the cap from the rear tank hoping it wasn't stainless. It wouldn't be a huge problem but since the rear tank has a large outlet it is conceivable that the bit could block the tank outlet. Unlikely but conceivable. We had enough gas in just the front tank to do the legs to OSH but I preferred not to.
Late that night I had a huge sinking feeling. I had completely forgotten to organize accommodation for our Oshkosh staging post of Mineral Point. I had identified a few trouble spots for accommodation but forgot that one. Evidently we weren't the only ones who thought staging for Oshkosh at MRJ was a good idea. It was 23:00 and there was nothing to be had at either MRJ or our fueling alternate of Vinton (VTI). We needed another plan.
While we were throwing ideas around, Darryn mentioned Appleton. It was our OSH alternate and our hotel was there. That made sense so that was what we decided and went to sleep knowing we had a plan.
I had considered just going straight to OSH but it wasn't my favorite idea. I did think that accommodation at our Oshkosh hotel at Appleton would however be easy to get. Anyone who hadn't booked for Saturday and Sunday already wouldn't likely want it since from Monday it's going to be chockablock! I was right.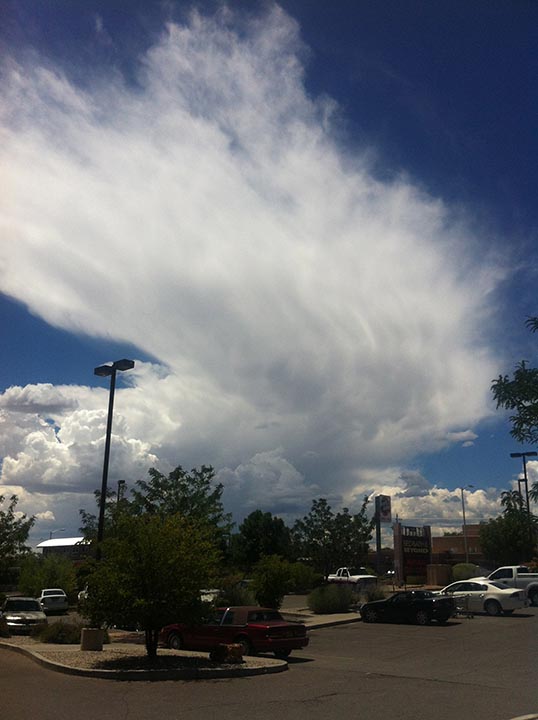 Why we flew in the mornings
Day 6 Council Bluff to Appleton
Another 06:00 wake-up (another new timezone too) and we drove the Buick out to Council Bluffs Municipal for our departure.
I fished the remains of the fuel cap out with the magnet I bought the day before in about one minute. Darryn pre-flighted, and I filed for ATW. We fired up and at pretty much right on the dot of 08:00 local the wheels were in the air. Density altitude less of a problem this time and the little plane lifted off a lot more enthusiastically than the last few days.
I had wedged a bottle cap into the rubber remains of the fuel cap but unfortunately it moved slightly on liftoff we had a fairly strong smell of gas from the rear tank briefly. It wouldn't have leaked much out but it doesn't take much to make a lot of smell. The rubber remains was actually sealing quite well but it has a hole in the middle for the rest of the cap. I had a better idea for next time but there wouldn't be a full tank for OSH so it wasn't going to be an issue and I've got a new one coming for then anyhow. I just switched straight to the aft tank and burned it down so it wouldn't squirt anything through the hole.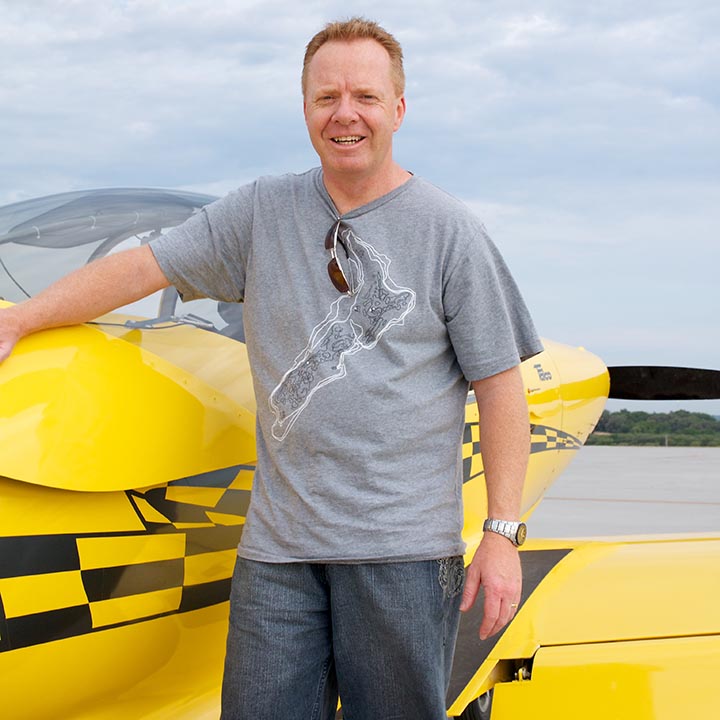 Darryn Morgan
We turned northeast and started our climb for 5500' to take advantage of favorable winds at that level. As we climbed through about 2000' we went through a marked temperature inversion. It had been about 21 on the ground but once we popped up the temperature shot up to 29. Weird. We see them in winter at home all the time but I never really considered you could get them at high temperatures.
Next we checked in with Columbus Flight Service to open our flight plan and were advised there was a forecast for large convective activity just to the North West of out track. Those suckers were forecast up to over 45,000'. We hoped they stayed there!
As we tracked toward Appleton the engine was showing very slight signs of not being completely happy. About every 15 minutes or so it would have a little misfire. I fiddled with the mixture but it never really settled. It wasn't so bad that we considered a diversion appropriate but it does grab more attention than is preferable. Still, as Darryn said, rather here than over the Nevada and Arizona deserts.
Time moved on, scenery very similar to the latter stages of yesterday. Flat terrain, mainly farms, but slowly getting greener. Just like Duane said it would.
The sky was a high grey overcast looking darker to the left and forward. Great, the convective activity was staying put. In fact weather wise the flight was great. Still the engine wasn't that happy.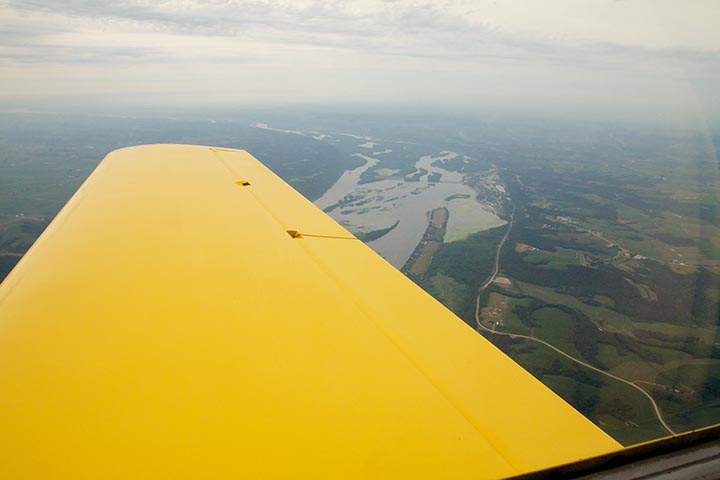 The Mississippi River
We crossed the great Mississippi River. Darryn took a few photos although the light wasn't great. I wasn't really super keen to circle for photos as I really just wanted to press on and get the unhappy bird on the ground and get it sorted out. It's funny when these little things happen you listen so closely it can seem worse than it actually is.
We got to our top of descent point, nosed over and started a high speed descent into Appleton. There was a couple of planes around but nothing startling. We could see Oshkosh's Wittman Regional Airport off to the right. We were looking straight down runway 11. That was exciting and finally I could see that this little crazy adventure of mine was really going to succeed.
We got a speedy clearance direct to a left base for runway 30 and the wheels kissed at 10:13 local.
I decided I'd prefer the FBO as opposed to the grass parking spot in order to get an A&P take a look at the machine, so the very helpful ground controller guided us to the maintenance facility. As we parked I ran it up and turned the mags off in turn. Sure enough, with the left magneto off it ran like a bag of ... well you know what I mean! The engine monitor showed cylinder 4 cooling down so we most likely had a bad or fouled plug in the lower slot on #4.
After we shut down the line guy advised nobody was around for the weekend for maintenance. Good one. Does anybody know Airventure is about to start? No big deal. I had a spare plug so I swapped it, ran it up and it was back to smooth on both mags.
We called ground and received a clearance to cross to the grass parking area to be the very first aircraft to arrive at Outagamie's regional Airport for Airventure. The marshallers were very friendly so we had to get their photos.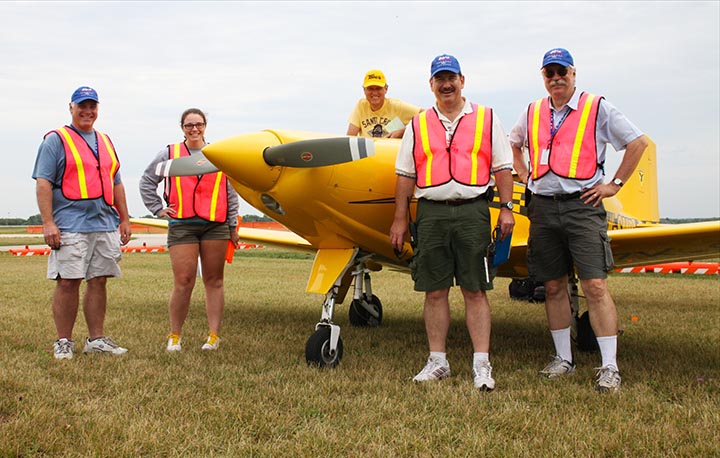 Ground crew at Appleton, Wisconsin
We tied down and got the transport to our hotel.
Tomorrow was to be our big day. Arrival into Oshkosh for Airventure 2012!
Go back to George Richards