Weebee Air Force
Doubles in Size
by Mike Wiebe
This article appeared in the June 2002 issue of the Falco Builders Letter.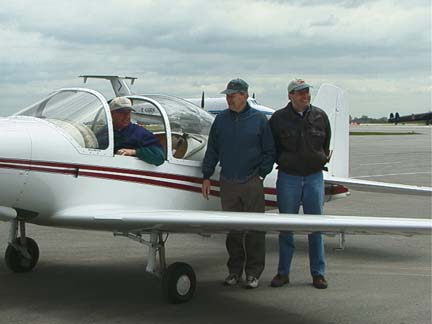 Al Aitken, Jack and Mike Wiebe after the first flight
On Saturday May 18, 2002, after about eight years and somewhere near ten thousand hours of effort, Falco C-FMWW flew for the first time. Actually, we test-flew two Falcos that day, and this isn't the first "first flight" for Team Wiebe. So we've got to rewind the time machine a little bit to fill in the pieces.
The History: Pre-Falco
This is the sixth airplane my father has built and flown in almost forty years of flying, and the fourth one in which I have played an active part. I was involved in the first two aircraft, but more as a seven-year-old pain in the ass. Though if you ask him, he'll tell you I've been a pain in the ass for all six airplanes.
In the mid sixties, my father tackled the dream to fly. He quickly realized that he couldn't afford to own or even rent an airplane regularly, so he decided to build. Small airplane construction options in Canada were few at the time, but Dad bought into the clean lines of Claude Piel's Emeraude. The Emeraude is a low wing, two place, side-by-side, wood and fabric craft, and is the pre-cursor to the Cap 10-flown by the French Connection aerobatic team. The construction highlight is that the Emeraude wing is elliptical in shape, requiring the individual jigging and construction of every rib. The plans were drawn in metric and written in French, neither of which Dad had a clue how to interpret. Whether or not he knew it then, the perseverance required to complete that Emeraude was the first positive indicator on the 'insane masochist' checklist required to scratch-build a Falco.
| | | |
| --- | --- | --- |
| | Mike beside the first Emeraude, somewhere along the north shore of Lake Superior sometime in history. | |
A year after the Emeraude first flew, Dad and I flew it from our home in Hamilton Ontario (near Niagara Falls) to visit his family near Winnipeg-a distance of about 1,000 miles. This was 30 years ago, in a home-made airplane, around the rugged north shore of Lake Superior. Oh, the powerplant was an 85 hp Continental that Dad rebuilt, after buying it in the insurance sale of an Ercoupe that he had previously crashed.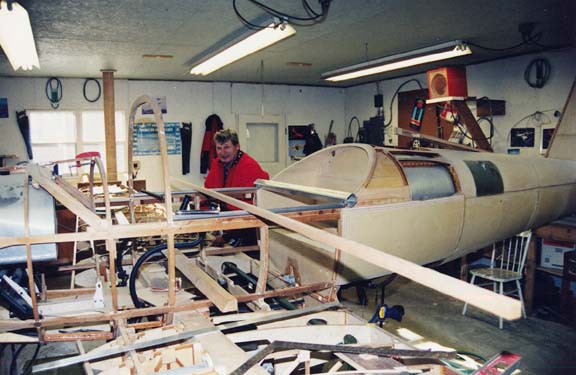 | | | |
| --- | --- | --- |
| | Jack Wiebe at the early stage of construction. | |
But that's another story, best told by him after a couple of beers. Though reasonably uneventful, this trip earned him the second check mark on the 'insane masochist' list, and of course committed my name to the list as well. It also committed my mom, who despite suddenly realizing that both her men might perish together in an airplane has always kept a reasonable facsimile of a smile on her face when encouraging our dreams. Thanks Mom!
It didn't take long for Dad to dream of more speed, just about the time that Ken Rand was making a splash with his KR-2. This was the perfect homebuilder's airplane-cheap to build and operate, but fast and pretty good looking. Unfortunately he developed an allergy to the early epoxies used in such craft, which made me an active partner at age 12. Unfortunately during the building process, I grew from about four feet to six feet in height as well. Those of you who know what a KR-2 is, will know that it's no place for two six-foot guys. So Dad flew it, and built another airplane, a Cavalier, while I went away to university.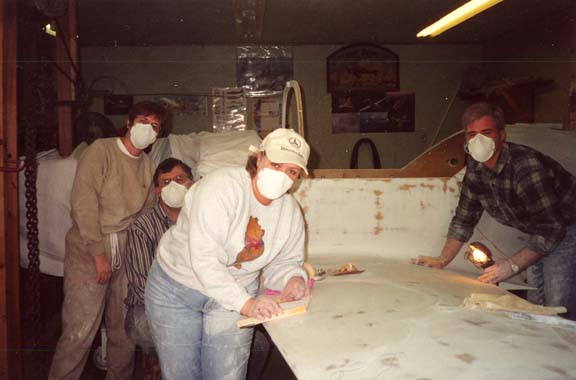 | | | |
| --- | --- | --- |
| | Sanding Party -- Lee Anne, Mike, Lee Anne's sister D. J. and her husband Glenn. | |
It was at university that I met Lee Anne. While most of my buddies were taking good care of their ladies on the weekends, I was travelling home to glue spars, install engines and test fly airplanes. Ultimately on a weekend visit to Mom and Dad's, Lee Anne went for a ride with Dad. Since she put up with me building airplanes through four years of school, and since she seemed to like the ride (she didn't throw up anyway), I put her firmly on the potential "insane wife of a masochistic airplane builder" list.
Fast forward two years. Lee Anne and I are newlyweds, when the phone rings. It's Dad. "Hey son, I got a line on a partially built Emeraude project. Ya want half? Don't worry, the ribs are already built." A few hours later, after much genuflecting to ATC (A Temperamental Cohabitator), I officially owned half-of half-of an airplane. I had graduated to full-fledged partner in the Team Wiebe aircraft skunkworks! We made short work of that project, subsequently flying it lots of places, including down to the Florida Keys for some fishing.
Fishing! A big part of Dad's-and therefore my-life. Dad always wanted a floatplane, and with the evolution in kit aircraft, we finally got the chance. Plane number five was-or more correctly, still is-our Murphy Rebel on amphibious floats. Now this was a real compromise for Team Wiebe's senior partner and wood craftsman. The Rebel was a) aluminum, and b) (gasp!) a kit. However, the end justifies the means, and eighteen months later we were on the lake fishing. Insert any number of fish stories here.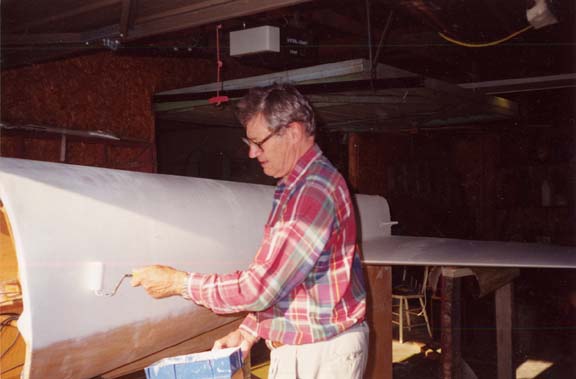 Go back to Jack & Mike Wiebe