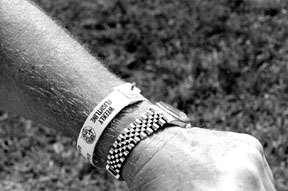 Cecil Rives's highly modified removable flightline pass.
The Bracelet Menace. Once again the dark, storm clouds of controversy hang over the EAA. Angry voices are heard, suspicions abound, and members threaten to quit. Some say they'll never come back to Oshkosh again. Petitions are circulated and signed by scowling men and then marched into EAA offices and presented in fierce defiance.
And the cause of all this concern and anger? Why it's the bracelet, the most horrible and awful of things to descend on Oshkosh in years. In years past, the flight line pass was a paper luggage-tag on a string. This year they went to a bracelet worn on the wrist. The daily pass was a colored paper band. The weekly pass was a plastic, hospital arm band affair firmly held on your wrist with a rivet. When the show was over you cut it off.
What caterwauling there was about this plastic band! People were threatening to go home and never come back. Members were threatening to quit the EAA over it. Someone had a petition that they were circulating, protesting this thing. One couple reported that they scratched themselves while making love. Always the clever mechanic, Cecil Rives devised a little bracelet modification with a ring terminal so he could take it off at night. Kitplanes editor Dave Martin said he still had the bracelet on when he got back to California, and the receptionist at his office said, "My Lord, Dave, what happened to you!" when she first saw the 'hospital' bracelet.
One woman said the band gave her a rash. This led to the Bracelet Riots on Friday evening, when a beleaguered Tom Poberezny was pinned against a wall by the irate crowd and was heard to say, "Unfortunately we didn't have the luxury of testing the new bracelet before we put it on the market. We had to stay in business. We had to keep selling tickets." Just kidding on that last one, but you actually had grown men with huge astronaut watches on one arm crying like babies about the agony of wearing a nearly weightless band on the other arm.
The problem with the tag-on-a-string is that you can pass it over the fence, something you can't do with a bracelet. The result is that more people buy tickets and the numbers are significant. Tom Poberezny says it's hard to pin down exactly what the bracelets did, but he guesses that the additional revenue is somewhere in the range of $100,000 to $125,000. Any way you cut it, that's a significant amount. Tom said that most of the complaints were in the first few days and all were about the plastic weekly band that you couldn't take off, (next year, they're going to issue a series of paper bands) and since Oshkosh he has received 15-20 letters about the bracelets. "Some people really lay it on, and it's no fun to stand there and listen to the complaints, but they deserve to be heard. When people said that they were going to quit the EAA over this, all I could think was: Where had we failed them that such a little thing would push them over the edge?"