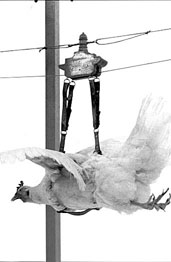 Bored with Falco building and want to take on new challenges? Then order a copy of "The Teach Your Chicken to Fly Training Manual" from Ten Speed Press, P. O. Box 7123, Berkeley, California 94707.
It begins with the 'history' of a group of visionary Californians who, during the period of 1940 to 1953, took sympathy on the plight of flightless chickens and decided to do something about it. They formed The Society for Rights for Inferior Birds, and invented an exercise machine to teach chickens how to fly.
A complete Construction, Instruction and Training Manual was issued with each machine, complete with engineering drawings for the chickens as well as the exercise machines. The birds were supported in a leather harness, and suspended in flight attitude from a wire while they are wheeled back and forth. Below them cutouts of cities, trees and farms so the chickens will know what they will see when flying.
There's an entire chapter on the pyschology involved and the use of audio-visual material so the chicken can hear the sounds of flapping wings and see other birds flying to the side. There's even a painting of Sigmund Freud with a chicken, indicating his interest in these birds which gave rise to the now widely used term "Freudian Chic." As with anything from California, there's instruction on how to massage the wing muscles of your chicken.