| | | |
| --- | --- | --- |
| | Across the Tasman Sea | |
We cycled back to the aerodrome to refuel the day after arrival. We lacked the necessary cash and our cards were not acceptable so the fuel man said that was OK, we could pay on the way back. Very accommodating.
Lord Howe has a small local community of around three hundred people, mostly dependant on tourism. There are some lovely beaches, and the locals assured us, no sharks. On Ned's beach an old fellow has been feeding the fish with scraps at 4.00 PM every day for the past 20 years or so, and a mass of fish come in at around that time. They are not mere sardines, but are mostly large fish of two or three feet or more in length. There were Blue fish, Yellow Tailed King Fish and some mullet but, surprisingly, no sharks. Tourists swim among the fish with goggles and snorkel.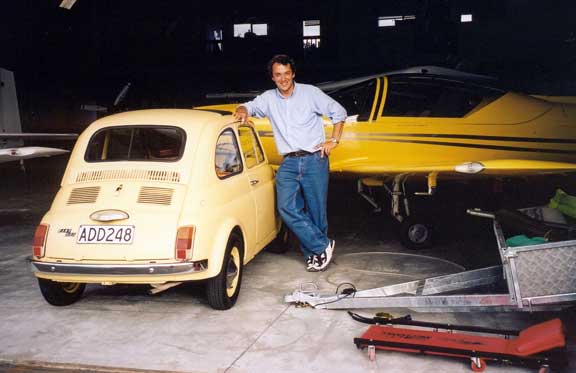 | | | |
| --- | --- | --- |
| | Giovanni Nustrini with Fiat and Falco | |
Our stay was not blessed by fine weather. It rained and blew the whole time of our stay. We got wet and never managed to get properly dry. On our return journey the weather was fine.
On Monday, we loaded up in rather bleak weather with a considerable wind, as usual, and departed to the North-East from one zero. Climb to cruise at 8500. We were over cloud much of the way, but after all there was little scenery. We never saw any form of vessel on the ocean at any time during our trip to NZ and back. According to the GPS we were managing 4.6 to 4.9 liters per 25 nautical miles (27 mp Imperial gal). At 250 miles the ADF locked on to Norfolk NDB—a comforting sight. It turned out that the VOR was out of service.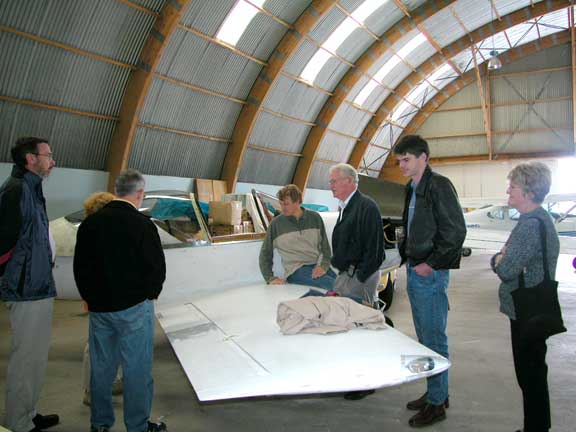 Norfolk Island appeared out of the mist ahead—again a very welcome sight. The contour of the island is rather flat but surrounded by 300 foot cliffs. The aerodrome is large with two long runways. We had a nervous moment when the undercarriage failed to extend, and we had to go round. On cycling the gear it extended normally.
The weather was much improved at Norfolk, and we spent a few days sight seeing. We hired a car for our stay there for A$50.00 per day. The Island is noted for its Norfolk Pines; very straight trees that the early Australian colonists thought would make excellent ship's masts. The timber proved unsuitable, but the government in Australia established a penal colony there for the most hardened of the convicts originally exported to Botany Bay (Sydney) from England. Their treatment there was extremely harsh, with frequent floggings. Many of the old prison buildings can still be seen. We visited the cemetery where jailors, prisoners and others were and are buried to the present time. The late 16th century burials are mainly men with some children and women, mostly under twenty-five years of age, except one man who died age 105 years. That provides some food for thought.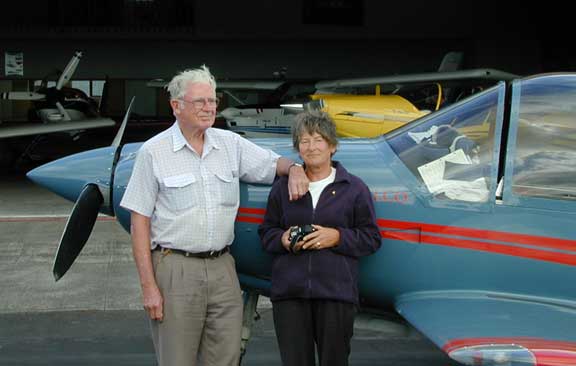 Ian and Juliet on arrival at Ardmore
Go back to Ian Ferguson