| | | |
| --- | --- | --- |
| | To Work in a Falco | |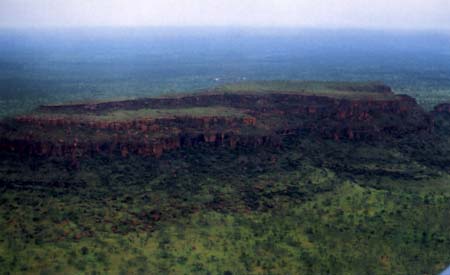 Ranges in the Kimberley
Four weeks later it was time to return to collect the wandering doctor. Departed from Yabba North at 08:00 for the Alice via Leigh Creek in South Australia. It was 504 miles to Leigh Creek for fuel (there was a photograph of my old SF.260 on the wall of the refueller's shed from a previous visit) then on to Alice Springs, arriving at 13:30. I had not allowed for the two hours gain in local time to my final destination and stayed the night in Alice rather unnecessarily.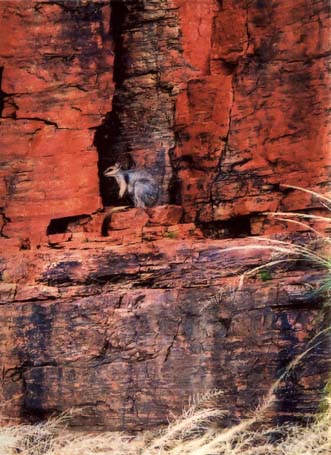 Rock Wallaby in the red rock of the Ord River gorge
This time direct from Alice to Kalkarindji over the Tanami desert again. It was in this desert, not far from Kalkerindgi in 1929, that Anderson and Hitchcock died of thirst following a forced landing in a Westland Widgeon while looking for one of our pioneer airman, Kingsford Smith. This was known as the Coffee Royal affair because the lost Kingsford Smith and his crew drank coffee and brandy during their wait for rescue on the West Australian coast. It was scurrilously suggested at the time that Smith's forced landing was a put-up affair to gain publicity.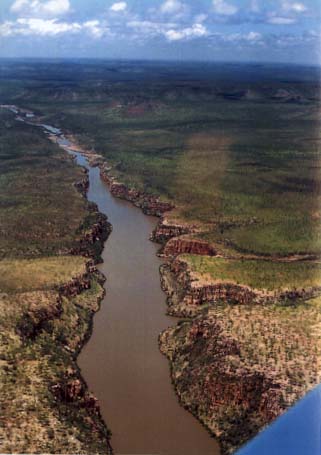 Berkeley River and Gorge
Aircraft have revolutionized conditions in this remote country with small mail/passenger 'planes everywhere and, of course, the Royal Flying Doctor Service. Every station (ranch) has its own strip and usually an aircraft. Often an ultralight as well. Medical emergencies are resolved by satellite 'phone and RFDS, the latter a free service but only available on the authorization of a doctor.
Following my arrival at Kalkarindji, we had an interesting dinner in the local aboriginal club and bar. Next morning we departed south initially, for fuel at Hooker Creek, another aboriginal settlement. (The frequency of creek in the place names in this country indicates the importance of water). From there we traveled to Timber Creek, a hundred or so miles north, for a day or two fishing unsuccessfully for Barramundi in the Victoria River.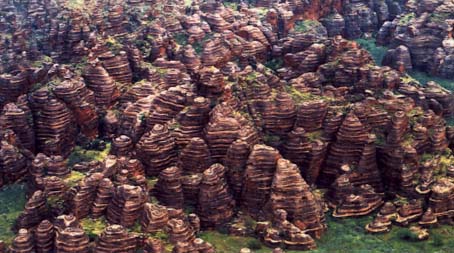 Bungle Bungle Mountains
Go back to Ian Ferguson