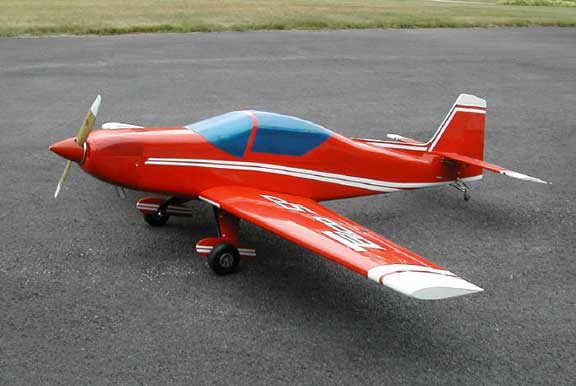 Quarter-scale Falco model by John Shenk
Falco Profile SP
by John Shenk
My interest in the Falco began in early 1980 when I published the first Falco quarter scale article in the February 1984 issue of Model Airplane News. From that article, Robert Sweitzer produced a very authentic and detailed set of drawings of the quarter scale model. I still have that model today. Since that time I became very interested in RC pattern flying. Although I never became a proficient pattern flyer, I decided last year to build my rendition of the aerobatic quarter scale Falco pattern plane. Today there are numerous quarter scale pattern planes for modelers to choose from. Most of them are almost ready to fly (ARF) with just a few evenings of work to get them flying. I decided to develop my scratch built quarter scale Falco Profile SP (Super Pattern) model, in the picture above, around these popular planes like the Extra, CAP, Edge, and Yak.
I planned to keep as much of the Falco profile as possible. This included the body, the wing, fin/rudder, and stab/elevator. They are nearly the same shape and dimensions as the original full scale Falco. I did, however, make the body narrower for a single pilot and longer for smoother performance. To improve aerobatic performance, I used a NACA 0015 airfoil, larger ailerons, reduced dihedral, and squared the wing and stab/elevator tips. I made the body more box shaped for easier construction and turned the design into a tail-dragger to save weight rather than a tricycle retractable landing gear. The nose is a little large behind the spinner to cover the Bisson muffler. The resulting final design came out beautifully and weighed only 13 lbs. Anyone that knows the Falco recognizes this plane as a Falco even with all of these changes to improve its aerobatic performance.
My drawings for the model are not of professional quality but were adequate for me to build the plane, and I have a complete list of materials. I would be glad to share the plans with anyone interested. If there was enough interest I might be able to find a professional draftsman to produce higher quality drawings. The plane is a joy to fly if you are a Sunday flyer or a pattern professional. It will fly any routine the pilot is capable of doing according to my test pilot Elwood Struble. Even 3D maneuvers are possible with high throw rates. Because of its lightweight, the plane will be easy to convert to the new electric power systems that are becoming more popular every day. For more information, my e-mail address is jsshenk@adelphia.net.
Falco Profile SP Quarter Scale Specifications
Wing length = 80 in Stab/elevator area = 233 sq in
Wing cord = 17.5 in Fin height top to bottom of fuselage = 15 in
Wing tip = 9.0 in Rudder width = 6 in bottom 4 in top
Wing area = 1060 sq in Rudder area = 70 sq in
Body max width = 8.0 in Weight = 13 lbs.
Body length - tip of rudder to spinner tip = 72 in. Wing weight per sq ft. = 1.75 lbs.
Stab tip width = 2.25 in body width = 4.25 in. Engine = O.S. 1.60
Elevator tip width = 3.25 in body width = 5.25 in. Static thrust = 15 1⁄2 lbs
Stab length = 31 in Muffler = Bisson pit style