| | | |
| --- | --- | --- |
| | Luigi Aldini | |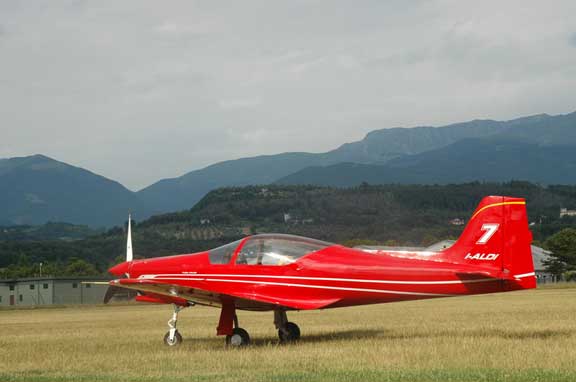 I'm very happy to say that I-ALDI has just made his first flight. My father and Capt. "Jack" Zanazzo were on board and made a short flight. Jack is a former freccie tricolori leader and test pilot of Italian Air Force, Fiat, Aeritalia, and worked also with Ing. Frati testing many of his airplanes.

Both my father and Jack were very happy with the handling and qualities of I-ALDI. Also the second flight went well and gear retraction was uneventful.

It has been a great emotion for all of us and for the many friends that helped us in these many (7) years that brought us to this moment.

Thank you for all the help you've given us in this years, and for having believed in the Falco.
Why did I decide to build a Falco? I always wanted to build an airplane, and thought about building a small aerobatic biplane like the Pitts. But one day Enzo Marrucci offered to sell me the factory jigs of the plane and... I had no doubt about starting! The Falco is certainly an excellent performer!

I enjoyed it's construction since the very first moment. After having studied the drawings and prepared the workshop I decided to build all the wood and the metal parts based on the original drawings.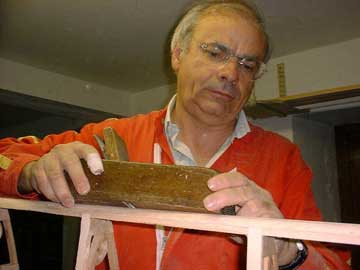 Luigi Aldini lives in Rome, Italy.
Photographs
Wing Ribs Fuselage Frames Wing Spar Wing Assembly
Sanding Skinning Ailerons and Flaps Electrical Trim System
Fuel Tanks Fuselage Assembly Skinning Joining Tail Assembly
Left-Hand Throttle Wing Fillet Engine Mount Nose Gear
Canopy Frame Canopy Propeller Covering with Fiberglass
Painting Gear Doors Instrument Panel
Interior To the Airport Painted First Flight